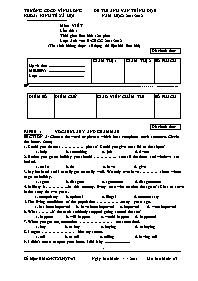 1. Could you do me a . please? Could you give me a lift to the airport?
a. help b. something c. job d. favour
2. Before you go on holiday you should . sure all the doors and windows are locked.
a. make b. do c. have d. give
3. My husband and I usually get on really well. We only ever have . about where to go on holiday.
a. agree b. disagree c. agreement d. disagreement
TRƯỜNG CĐCĐ VĨNH LONG ĐỀ THI ANH VĂN TRÌNH ĐỘ B 
KHOA: KINH TẾ XÃ HỘI NĂM HỌC: 2011-2012 
Môn: VIẾT
Lần thi: 1
Thời gian làm bài: 120 phút
Lớp: Anh văn B-CBCC 2011-2012
(Thí sinh không được sử dụng tài liệu khi làm bài)
Đề chính thức
Họ và tên: ....................................
MSHSSV: ....................................
Lớp: .............................................
GIÁM THỊ 1
GIÁM THỊ 2
SỐ PHÁCH
"..........................................................................................................................................
ĐIỂM SỐ 
ĐIỂM CHỮ
GIÁO VIÊN CHẤM THI
SỐ PHÁCH
Đề chính thức
PAPER 1 VOCABULARY AND GRAMMAR
SECTION A: Choose the word or phrase which best completes each sentence. Circle the letter. (20m)
1. Could you do me a . please? Could you give me a lift to the airport?
a. help b. something c. job d. favour
2. Before you go on holiday you should .. sure all the doors and windows are locked.
a. make b. do c. have d. give
3. My husband and I usually get on really well. We only ever have . about where to go on holiday.
a. agree b. disagree c. agreement d. disagreement
4. Military is..in this country. Every man who reaches the age of 18 has to serve in the army for two years. 
	 a. compulsory b. optional c. illegal 	 d. unnecessary 
5. The living conditions of the population many years ago.
	 a. has been improved b. have been improved c. improved d. were improved 
6. What .if the earth suddenly stopped going around the sun?
	 a. happens b. will happen c. would happen d. happened 
7. When you get out, remember  me some food.
a. buy b. to buy c. buying d. to buying
8. I regret  him my secret.
a. tell b. to tell c. telling d. having tell
9. I didn't mean to open your letter. I did it by .........................
a. immediately b. mail c. accident d. surprise
10. When we had a discuss about the film, we .that nobody had enjoyed it.
a. organized b. realized c. explored d. concluded
11. Her daughter  a respectful and obedient student.
	 a. said to be b. is said to be c. is said that d. is said being
12. My teenage son is driving me crazy. I can't put  with his moods.
a. on b. at c. up d. in
13. Your mother is 50 years old. She ................... have been born during World War II.
a. must b. could c. might d. can't
14. She has ..................... all her money in government bonds.
a. wasted b. invested c. saved d. invented
15. I've tried so many times to stop biting my nails, but I just can't  the habit.
a. kiss b. keep c. kick d. kid
16. " Where's Sally?" – " She must be ............................ a bath"
a. do b. doing c. take d. taking
17. You have never been there,. you?
a. have b. haven't c. do d. don't
18. "My uncle has been a writer for many years." "How many books so far?" 
	 a. did he write b. has he been writing c. has he written d. was he writing 
19. The police haven't found the boy ........................ got lost yesterday.
a. which b. whom c. who d. whose
20. I've been decorating my new flat. You must ....................... and visit me on Saturday.
a. go b. come c. arrive d. get
SECTION B: Each sentence has four words or phrases underlined. Identify the one underlined word or phrase that must be changed for the sentence to be correct. Circle the letter. (5m)
21. I usually avoid to go to parties because it's such a problem for me to remember 
 A B C D
people's names.
22. The dentist who son has just won the race is very optimistic.
 A B C D 
23. Was the missing child find in the night?
 A B C D
24. This is such a good tea that I think I'll have another cup.
 A B C D
25. You don't have to smoke on aeroplanes.
 A B C D 
PAPER 2 READING COMPREHENSION
SECTION A: Read the passage carefully and choose the correct answer. Circle the letter. (10m)
Computer programmer David Jones earns £35,000 a year designing new computer games, yet he cannot find a bank prepared to let him have a cheque card. Instead, he has been told to wait another two years, until he is 18. 
The 16-year-old works for a small firm in Liverpool, where the problem of most young people of his age is finding a job. David's firm releases two new games for the expanding home computer market each month.
But David's biggest headache is what to do with his money. 
Despite his salary, earned by inventing new programs within tight schedules, with bonus payments and profit-sharing, he cannot drive a car, take out a mortgage, or obtain credit cards.
He lives with his parents in their council house in Liverpool, where his father is a bus driver. His company has to pay £150 a month in taxi fares to get him the five miles to work and back every day because David cannot drive.
David got his job with the Liverpool-based company four months ago, a year after leaving school with six O-levels and working for a time in a computer shop. "I got the job because the people who run the firm knew I had already written some programs," he said.
"I suppose £35,000 sounds a lot but actually that's being pessimistic. I hope it will come to more than that this year." He spends some of his money on records and clothes, and gives his mother £20 a week. But most his spare time is spent working.
"Unfortunately, computing was not part of our studies at school," he said. "But I had been studying it in books and 'magazines for four years in my spare time. I knew what I wanted to do and never considered staying on at school. Most people in this business are fairly young, anyway."
David added: "I would like to earn a million and I suppose early retirement is a possibility. You never know when the market might disappear." 
26. Why is David different from other young people at his age? 
	a. He earns an extremely high salary. b. He is not unemployed. 
	c. He does not go out much. d. He lives at home with his parents. 
27. David's greatest problem is 
	a. Making the banks treat him as an adult. 	b. inventing computer games. 
	c. spending his salary. 	d. learning to drive. 
28. He was employed by the company because 
	a. he had worked in a computer shop. b. he had written some computer programs. 
	c. he works very hard. d. he had learnt to use computers at school. 
29. He left school after taking O-levels because 
	a. he did not enjoy school. 
	b. he wanted to work with computers and staying at school did not help him. 
	c. he was afraid of getting too old to start computing. 
	d. he wanted to earn a lot of money. 
30. Why does David think he might retire early? 
	a. You have to be young to write computer programs. 
	b. He wants to stop working when he is a millionaire. 
	c. He thinks computer games might not always sell so well. 
	d. He thinks his firm might go bankrupt. 
SECTION B USE OF ENGLISH
Read and fill in the blanks with suitable given words or phrases that best complete the passage. (10m)
means has to help easily feel talking solves promotion pollution place However where
Living in a village (31)................. a lot of advantages. The biggest advantage is that it is quiet and has no crimes. This means that people (32)..................... comfortable and safe. Another advantage is that it is cleaner than other places; it has less (33)........................ because it has fewer factories. As a result, people live in a (34)....................... where they are relaxed and happy. The villagers are often willing (35)...............one another. For example, if anyone has a problem, everyone comes, sits together and (36).................. the problem.
	On the other hand, there are some disadvantages of living in a village. The biggest one is that people do not have good jobs and get high salary. This . (37) that people have to work hard.
	There are benefits and drawback of living in the village, (38)........................, young people prefer a noisy and busy life in big cities where they can (39)............. get good jobs, high salary and (40)..................... . Elderly people often think of spending their last years in the country after they retire. 
PAPER 3 WRITING
SECTION A: Complete the following sentences with given words and phrases. (10m)
41. When / I / see / he / painting / portrait / wife.
.
42. He / usually / spend / an hour / do exercise / and / jog.
.
43. Frank / wanted / know / you / going / join / organization.
.
44. I / turn off / TV / before 10 o'clock / last night
.
45. My sister / write / you / after / she / finished / exam.
.
46. It / the / dangerous / corner / I / ever / see.
.
47. Why / sister / not / offered / new job / last month?
.
48. Unless / you / start / once / you / late.
.
49. She asked / John / where / he / go / swimming / the day before.
.
50. He / be made / sign / paper / admitting / guilt / last week.
.
SECTION B: Finish each of the following sentences in such a way that it means exactly as the sentence printed before it. (5m)
51. Nobody has cut the lawn for weeks.
→ The lawn 
52. I'm sure she had a holiday.
 → She must 
53. Keep quiet or you'll wake the baby up.
→ If .
54. She said: "I spent a summer here in this town last year."
→ She said that 
55. She heard him sing a song.
→ He 
SECTION C COMPOSITION
Write ONE only of the following composition exercises. (10m)
What do you do to keep healthy?
Advantages and disadvantages of living in the city.
Your study of English. 
.
..
..
..
..
..
..
..
..
..
..
..
..
..
..
..
..
..
..
..
..
..
..
..
..
..
..
..
..
..
..
..
 THE END
 Duyệt đề Giáo viên ra đề 
ANSWER KEY ( LỚP AVB-CBCC)
Đề chính thức
PAPER 1
Section A: 20m
d
a
d
a
d
c
b
c
c
b
b
c
d
b
c
d
a
c
c
b
Section B: 5m
 A 22. B 23. C 24. B 25. A
PAPER 2
Section A: 10m
 26. a 27. c 28. b 29.b 30. c
Section B: 10m
 has
 feel
 pollution
 place
 to help
 solves
 means
 however
 easily
 promotion
PAPER 3
Section A: 10m
When I saw him, he was painting the portrait of his wife.
 He usually spends an hour doing exercise and jogging.
 Frank wanted to know if you were going to join that organization.
 I had turned off TV before 10 o'clock last night.
 My sister will write you after she has finished her exam.
 It's the most dangerous corner I've ever seen.
 Why wasn't your sister offered a new job last month?
 Unless you start at once, you will be late.
 She asked John where he had gone swimming the day before.
 He was made to sign a paper admitting his guilt last week.
Section B: 5m
The lawn hasn't been cut for weeks.
 She must have had a holiday.
 If you don't keep quiet, you will wake the baby up.
 She said that she had spent a summer there in that town the previous year.
 He was heard to sing a song.
Section C: 10m
TOTAL MARKS: 70: 7= 10m