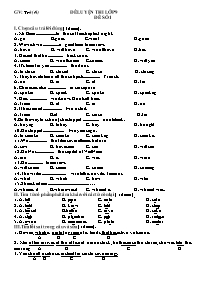 III.Tìm lỗi sai trong câu và sửa (1 điểm).
1. Hawaii, which is part of a group of is lands, that has active volcanoes
 A B C D
2. Mai often arrives at the affice at nine ơclock, but because the storm, she was late this morning A B C D
3. You should use buses instead for cars to save energy.
 A B C D
4. I think you would go to the dentist if you have a too thache.
 A B C D
5. Many people stop to smoke because they are afraid it may be harmful to their health.
 A B C
GV: Trµ (A) ĐỀ LUYỆN THI LỚP 9
ĐỀ SỐ 1
I. Chọn câu trả lời đúng (3 điểm).
1. Mr Bean....................to the coffee shop last night.
A. go	B.goes	C.went	 D.gone
2. We wish we ................a good time tomorrow.
A. have	 B. will have	C. would have	D.has
3. He said that he ............... back soon.
A. came	B. would come	C.comes	 	D. will you
4. It's time for you ................. the door.
A. to close	B. closed	C. close	 D. closing
5. They have to learn all the subjects ................ French.
A. on	B. in	 	C. at	D. for
6. Chinese is also .................. in sinsapore.
A. spoken 	B. speak	C. spoke	D. speaking
7. He is ................. work now. Don't call him.
A. from	 	B. at	C. in	D. on
8. It has rained ................... two ơclock
A. from	B.at	C. since	 	 D. for
9.On the way to school, she stopped ................ a notebook .
A. buying	B. to buy	C. buy	D. bought
10. He stopped ..................... two years ago.
A. to smoke	B. smoke	C. smoking	D. smokes
11. We .................. the film several times before.
A. saw	B. have seen	C. see	D. will see
12. Ha Noi .................. the capital of VietNam
A. are	B. is	 	C. was	D. were
13. He ............... tomorrow.
A. will come	B. came	C. come	D. coming
14. The writer ........................ wrote this novel is famous.
A. what	B. which	C. how	D. who
15. She asked me ............................................
A.where is it	B.where was it	C. where it is	D. where it was.
II. Tìm từ có phần phát âm khác với các từ còn lại ( 1 điểm )
1. A. bill	B. pipe	C. mile 	`	D. side
2. A. hold	B. know	C. told	D. shop
3. A. faucet	B.bathe	C. save	D. cake
4. A. club	B. plumber	C. pub	D. reduce
5. A. owner	B. enormous	C. photo	D. motor
III.Tìm lỗi sai trong câu và sửa (1 điểm).
1. Hawaii, which is part of a group of is lands, that has active volcanoes
 A B C D 
2. Mai often arrives at the affice at nine ơclock, but because the storm, she was late this morning A B C D
3. You should use buses instead for cars to save energy.
 A B C D
4. I think you would go to the dentist if you have a too thache.
 A B C D
5. Many people stop to smoke because they are afraid it may be harmful to their health.
 A B C D
IV. Chia dạng đúng của động từ trong ngoặc (1 điểm)
1. If she (come)............... late again, she'll lose the job.
2. How long (you \ study) ............. English?
3. She (not go) ................ to the party last night because she (be) .................. busy with her home work.
4. She asked me If I (go) ............. to school by like.
5. The children (like) .............. smeets?
V. Viết lại các câu sau sao cho nghĩa của câu không thay đổi (2 điểm)
1. I live in Dalat. It is a beautiful city.
Which.........................................................................................................................
2. Mekong is the longest river in Indochina.
No river.......................................................................................................
3. Binh finds a lot of money on the shelf.
A lot of money..................................................................................................
4. She asked me: "Do you speak any other languages?"
She asked me.....................................................................................................................
5. "Where do you live? " She asked me.
She asked me........................................................................................................................
VI. Đọc đoạn văn sau và trả lời câu hỏi ( 2 điểm)
	Environmental pollution is one of the most serious problems facing mankind today. Air, water, and soil are necessary to the survival of all living thing. Badly polluted air can cause illness, and even death. Pollted water kills fish and other marine life. Pollution of soil reduces the amount of land that is available for growing food. Environmental pollution also brings ugliness to man's naturally beautiful world.
1. What is one of the most serious problems facing mankind today?
.......................................................................................................................................................
2. Do all living thing need air, water and soil to live on?
........................................................................................................................................................
3. What can cause illness, and even death?
.......................................................................................................................................................
4. Does polluted water kill fish and other marine life?
.......................................................................................................................................................
5. What does pollution of soil reduce?
........................................................................................................................................................
----THE END---
GV: nguyÔn thÞ Trµ ĐỀ LUYỆN THI LỚP 9
ĐỀ SỐ 2
I. Chọn câu trả lời đúng (3 điểm).
1. I am taller than you are,............. ?
A. am I	B. isn't it	C.aren't you	D.aren't I
2. We are very fond............ folk music.
A. in	 	 B. with	 C. of	 	D.at
3. Susan is looking for something.............
A. eat	B. to eating	C.to eat	 	D. eating
4. She will help you............she has some free time
A. where	B. how	C. when	D. what
5. Sara speaks so............ that I can't under astand her.
A. faster	B. fastly	 	C. fast	D. fastest
6. "when............? " in 1028".
A. was T.V invented 	B. did T.V invented	
C. T.V was invented	D. did T.V in vent
7. she used............ as a typist.
A. to working	 	B. to work	C. work	D. working
8. My parents are interested in ............ football watches on T.V
A. watched	B.to watch	C. watch	D. watching
9. It is a ............ contest.
A. cooking rice	B. rice-cooking	C. rice-cook	D. ricing-cooked
10. Nhi asked Nga if My Son............. in Quang Nam province.
A. was	B. has been	C. is	D. will be
11. The girl............ next to me is new comer.
A. stting	B. sit	C. sat	D. sits
12. Nam was sleeping............ Nga was reading a book
A. while	B. why	 	C. what	D. where
13. This is the first time Hoa............ Tim's family.
A. has met	B. met	C. meet	D. meeting
14. She told me that she............ English well.
A. speak	B. speaks	C. speaks	D. ro speak
15. Nguyen Du is one of the most brilliant poets in VietNamese.............
A.history	B.literature	C. geobraphy	D. biology.
II. Tìm từ có phần phát âm khác với các từ còn lại ( 1 điểm )
1. A. tiny	B. tiger	C. tin	 	`	D. time
2. A. planet	B. animal	C. man	D. decay
3. A. season	B.sometimes	C. sea 	D. stop
4. A. thing	B. threaten	C. thought	D. than
5. A. Whole	B. forest	C. open	D. role
III.Tìm lỗi sai trong câu và sửa (1 điểm).
1. I wish they will stop waking so much noise so that I could concentrate on my work
 A B C D 
2. The sun is so bright for us to look at directly.
 A B C D
3. He doesn't like chocolate. If he does, he wouldn't leave them all over the kitchen.
 A B C D
4. They were swimming in the Ocean when the storm occurs.
 A B C D
5. Jim said that he was playing the piano in the hall now.
 A B C D
IV. Chia dạng đúng của động từ trong ngoặc (1 điểm)
1. Your brother usually (go) .............to school on time?
2. She (play)..............games yesterday?
No, she (not play)...............games. She (watch) ...............T.V.
3. The water (boil) ................can you turn it off ?. 
4. This is the first time I (drive) ................a car.
5. Now I (read) the book you (lend)................me yesterday.
V. Viết lại các câu sau sao cho nghĩa của câu không thay đổi (2 điểm)
1. Let's play a chess 
Nam suggests.........................................................................................................................
2. Daisy cleaned the floor.
The floor.......................................................................................................
3. They can break the wall easily
The wall...................................................................................................................................
4. he said to me: "I can help you with your homework"
He told me.....................................................................................................................
5. "Don't pick the flowers" Sunsan said to her brother.
............................................................................................................................................
VI. Đọc đoạn văn sau và trả lời câu hỏi ( 2 điểm)
SAVING OUR ENVIRONMENT
	Our environment is in trouble. Modern ways of living and today's industries are polluting it. Most people think there is nothing they can do. This is not true. Everyone can do something to help save our environment. Here's a list of things you can do.
	- Help to cut pollution by taking the bus to work instesd of your car.
	- Buy organic fruit and vegetables that have not bee treated with pesticides.
	- Recycle all your cans, bottles and paper. There should be a recyling centre somewhere near your home, so take them there.
1. What is polluting uor environment?
.......................................................................................................................................................
2. Can we not do anything to save our environment?
........................................................................................................................................................
3. What should we do to save it?
.......................................................................................................................................................
4. Where can we recycle empty cans, bottles and waste paper?
.......................................................................................................................................................
----THE END---
 The second semester written test
 Time allowed: 45 minutes
Full name:
Class:
I.Find out 4 words which have the vowel /au/
How	 bolw shout	close	 rose	loud	 phone	 shower
II.Give the correct form of the words in the brackets to complete the sentences
1.How many ......holidays do you have? (nation)
2.Nam has a lot of stamps in his .........(collect)
III.Each sentence below has a mistake.Find and correct it . 
1. If I am 10 centimeters taller, I would play basketball.
2. Trung wishes that he ...  my birthday party last night .
A. beautifully	 	 B. beauty	 C. beautify	 	D.beautiful
3. I always remember the stories which........... told by my grandma
A. is	B. was	C.were	 	D. are.
4. The man........... house we've just visited is famous artist.	
A. of whose	B. of whom	C. whose	D. which
5. He's never been late for school........... ?
A. isn't he	B. has he	 	C. hasn't he	D. doesn't he
6.I don't like iced tea.
 A. he doesn't too 	B.neither does he	C.so does he	D. neither doesn't he
7. He........... his grandparents every Sunday
A. has visited	 	B. visits	C. was visiting	D. is visiting
8. I'm learning Eglish........... I want to get a better job.
A. but	B.or	C. therefone	D. because
9. If the weather........... worse, we won't go to the beach
A. got	B. would get	C. gets	D. will get
10. How long ago........... this school...........?.
A. did/build	B. has/build	C. was built	D. has/been built
11. Would you like to have........... coffee?.
A. many	B. some	C. fen	D. little
12. He............. in Lound on at the moment.
A. has studied	B. wil study	 	C. studies	D. is studying
13. After drinking a big bottle of............., he gotdrunk.
A. water	B. wine	C. orange juice	D. milk
14. She was born............. June 26th, 1995.
A. in	B. of	C. at	D. since
15. I will bring a raincoat............. it rains.
A.so	B.in cause	C. but	 	D. since
II. Tìm từ có phần phát âm khác với các từ còn lại ( 1 điểm )
1. A. says	B. plays	C. rays	 	D. stays
2. A. appeared	B. formed	C. imagined	D. vanished
3. A. exchange	B. champagne	C. teacher	 	D. children
4. A. sensitive	B. benefit	C. pretty	D. remedy
5. A. oranges	B. figures	C. classes	D. watches
III.Tìm lỗi sai trong câu và sửa (1 điểm). 
1. If I am 10 centimeters taller, I would play basketball.
2. Trung wishes that he can have a good chance to visit singapore.
IV. Chia dạng đúng của động từ trong ngoặc (1 điểm)
1. I wish that I (know)............. how to mend this shirt
2 You can (take)............. you younger sister to my bithday party. 
3. If I knew his address, I (write)............. to him.
4. Look! Lan. You (know)............. the girl ?who(talk)............. to Mrs Hoa in the playground.
V. Viết lại các câu sau sao cho nghĩa của câu không thay đổi (2 điểm)
1. She said: " Let go to the zoo next week"
She suggestsd...............................................................................................................................
2. I'm not at home now.
I wish.............................................................................................................................................
3. "Do you live here" Liz asked me
Liz asked me.................................................................................................................................
4. Hoa said to him "You must come today" .
Hoa said........................................................................................................................................
VI. Đọc đoạn văn sau và trả lời câu hỏi ( 2 điểm)
	Italy
	There is a custom in italy for young couples to engaged on Valentine's Day.Some shops sell baskets and cups which are filled with sweets and tied with ribbons. The young lovers offer these to each as a sign other as a sign of their love.
	Korea
	On February 14th many young women give sweets to their boyfriend and on March 14th their boyfriend buy them chocolate. However, the young people who do not have a girlfriend or boyfriend can celebrate their own day on April 14th. On this special day, called "Black Day", these young people sit with their friend, who are in the same situation, and eat jajang noodles, wich are black. This ensures that everyone has a day to celebrate.
	United States of America
	Most people in the United States take Valentine's Day as an opportunity to express their feelings towards their loved one or to offer the hand of friendship to others. However, it is popular these days to send an "anti-Valentine" card. These cards either have an insulting message (to the person you hate) or say goodbye (to your current partner). If you receive a card with the message C-Ya! (See you!), it means your boyfriend or girlfriend wants to end your relationship.
1. How many Valentine's Day in Korea?
.......................................................................................................................................................
2. Who is the "Black Day" for...................?
........................................................................................................................................................
3. Does United States of America have the Valentine's Day?
.......................................................................................................................................................
4. Is it Popular on Valentine's Day to send an "anti-valentine" card?
.......................................................................................................................................................
----THE END---
GV: Nguyen Thi Tra ĐỀ LUYỆN THI LỚP 9
ªĐỀ SỐ 5
I. Chọn câu trả lời đúng (3 điểm).
1. Ho Chi Minh city is................ than Ha Noi.
A. more	B. noisy	C.more noisier	D.noisier
2. She danas.................than her sister .
A. beautiful	 B. the most beautifully	 C. the most beautiful	 	D.more beautifully
3.My keys ....................last week
A.was stolen	B. were stolen	C.are stolen 	D. is stolen.
4. This is the beach.................. I spent most of my time.	
A. which	B. where	C. that	D. when
5. Your English is very...............you speak English very................
A. good / good	B. good/ well 	C. well / good	D. weell/ weell
6.The doctor advised................to give up smoning
 A. that he 	B.to him	C.for him	D. him
7. A temple................ here hundreds of years ago
A. has existed	 	B. exsted	C. was existing	D. has exsted
8. Why was his lecture so................?
A. boring	B.bored	C. bore	D. borean
9. A person Who makes bread and cakes and sell them is a....................
A. baker	B. actor	C. nurse	D. pupil
10. He was the greatest................ of the time.
A. sceientifically	B. scientific	C. scientist	D. scientist
11. The house is................ small for us to live in.
A. very	B. so	C. too	D. such
12. I haven't had any news of liz................ 2003
A. on	B. since	 	C. befone	D. in
13. I think he will us, ................ he?
A. doesn't he	B. won't he	C. will he	D. do I
14. My sister has a very bad cold. I think she................ go out this evening
A. shoutdn't	B. should	C. will	D. is good
15. He couldn't walk as the others................ his broken leg.
A.in case	B.al though	C. in spite of 	D. because of
II. Tìm từ có phần phát âm khác với các từ còn lại ( 1 điểm )
1. A. object	B. solar	C. pole 	D. protein
2. A. gravity	B. cabin	C. planet	D. spaceship
3. A. reduce	B. destroy 	C. xmelt	 	D. evaporate
4. A. surround	B. destroy	C. xpreserve	D. increase
5. A. temperature	B. nuclear	C. deduce	D. produce
III.Tìm lỗi sai trong câu và sửa (1 điểm).
1. We had better to review this lesson carefully because we will have some question on it.
 A B C D 
2. To planting trees is a custom of VietNam people during Tex holiday.
 A B C D
3. He not went camping with his friends last Sunday
 A B C D
4. We are flying to Paris, where is the capital of France.
 A B C D
5. If the weather will be good tomorrow, we'll go to the beach.
 A B C D
IV. Chia dạng đúng của động từ trong ngoặc (1 điểm)
1. If the sun (be)................ shining now, we (go)......... to the beach
2. Minh just (win)................the first prize in the talent contest 
3. Yesterday afternoon Mrs Hoa (make).........cakes while her children (wash)...........the dishes. 
4. A brick layer (be)................ a person who (have) skills in building with bricks.
5. After (talk)................ for twenty minutes I succeeded in (convince)................ her that there was no danger.
V. Viết lại các câu sau sao cho nghĩa của câu không thay đổi (2 điểm)
1. They are painting the living room at the moment
The living room...........................................................................................................................
2. Learning English is not easy.
It's difficult...................................................................................................................................
3. "This picture is very nice" my unde said.
My unde said................................................................................................................................
4. "Will you be free tomorrow?" she asked me.
She asked me...............................................................................................................................
5. The pupil gets the scholarship. He is very poor.
The pupils (who)..........................................................................................................................
VI. Đọc đoạn văn sau và trả lời câu hỏi ( 2 điểm)
	SARS (Severe Acute Respiratory Syndrome) is a deadly disease. It is new and more dangerous than pneumonia and fluenza. Scientists have not found the cause of this disease. SARS is dangerous because it develops quicly. Patients normally have a high fever, a sore throat and cough. Their body temperature is above 38oC
	Antibiotics cannot treat SARS, and scientists are looking for a vaccine to prevent the disease. Befone they can find one, it is important to have a healthy lifestyle. You should keep fif, have plenty of fresh air, and eat lots of foods with vitamin C. If you see someone develop symptoms of SARS, take that person immediately to hospilal.
1. Have Scientists found the cause of SARS?
.......................................................................................................................................................
2. Can antibiotics treat SARS?
........................................................................................................................................................
3. What should you do to prevent SARS?
.......................................................................................................................................................
4. What will you have to do if you see someone develop symptoms of SARS?
.......................................................................................................................................................
	----THE END---