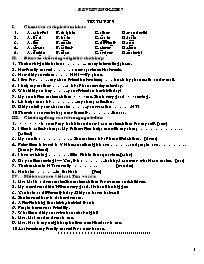 I. Mỗi câu sau có 1 lỗi sai. Tìm và sửa:
1. Mrs Mai is a dressmake. She makes clothes for women and children.
2. My new dress didnt fit me very good. It should be bigger.
3. You look so differently today. Did you have s haircut?
4. She learned how to do her dresses.
5. After finishing the skirts, she tried it out.
6. People here are so friedlily.
7. What time did you arrive house last night?
8. Mrs. Mai made a dress to me.
9. Mrs. Hoa is my neighbor; she lives next the door to me.
10. Last week my family moved for a new house.
Bạn đang xem tài liệu "Đề ôn tập môn Tiếng Anh 7", để tải tài liệu gốc về máy bạn click vào nút DOWNLOAD ở trên
Review English 7
Test Unit 9
Chọn từ có cách phát âm khác:
1.
2.
3.
4.
5.
A. colorful
A. food
A. fun
A. circus
A. decide
B. dolphin
B. took
B. uncle
B. collect
B. nice
C. other
C. cook
C. difficult
C. clever
C. arriver
D. wonderful
D. look
D. sun
D. clean
D. material
Điền vào chỗ trống với giới từ thích hợp:
The tourist guide took us .. many interesting places.
Her family moved a new apartment last week.
How did you return HN? – By plane.
I live far. my close friend but we keep  touch by phone calls and e-mail.
I help my mother ..a lot of housework yesterday.
What did you buy..your friend on her birthday?
My aunt often makes clothesme. She is very good sewing.
Liz helps me a lot..my stamp collection.
Did you tell your classmates..your vacationNT?
There is a souvenir shop near the exit.the zoo.
Cho dạng đúng của từ trong ngoặc đơn:
is one of my hobbies and now I can make clothes for myself. (sew)
I like to collect stamps. My father often helps me with my stamp . (collect)
My aunt is a .. She makes a lot of beautiful clothes. (dress)
Peter likes to travel to VN because the sights are . and people are. (beauty- friend)
I love watchinglittle fish in the aquarium. (color)
Do you like sewing? – Yes, it is a ..hobby. I can wear what I can make. (use) 
The beaches in NT are really . (wonder)
He looks ..in that hat. (fun) 
Mỗi câu sau có 1 lỗi sai. Tìm và sửa:
Mrs Mai is a dressmake. She makes clothes for women and children.
My new dress didn't fit me very good. It should be bigger.
You look so differently today. Did you have s haircut?
She learned how to do her dresses.
After finishing the skirts, she tried it out.
People here are so friedlily.
What time did you arrive house last night?
Mrs. Mai made a dress to me.
Mrs. Hoa is my neighbor; she lives next the door to me. 
 Last week my family moved for a new house.
****************************************
Test Unit 10
Chọn từ có cách phát âm khác:
1.
2.
3.
4.
5.
A. health
A. show
A. face
A. check
A. neglect
B. teacher
B. both
B. cavity
B. change
B. surgery
C. meat
C. hope
C. late
C. toothache
C. again
D. seat
D. hot
D. cake
D. children
D. forget
Điền vào chỗ trống với giới từ thích hợp:
I'm scaredgoing to the dentist's.
Do you know Dr. Lai? – Yes, my mother tells me a lother.
My mother is sick, so I stay home to take care her.
Staying .late.night and getting... late.the morning are bad ..our health.
That boy looks worried. What's the matter ..him?
The teacher smiled me to calm down me.
There is a small cavitymy tooth.
The dentist finished the work ..less than ten minutes.
Cho dạng đúng của từ trong ngoặc đơn:
Minh has to see the dentist because he has a .. (tooth).
The dentist is kind and very (help)
The mother feltwhen her daughter came home late last night. (worry)
Don't touch my hand. It's very .. (pain) 
When I was young, I was.when I visited the dentist. (scare)
I have a(n) with the doctor this afternoon. (appoint)
Try to wait a few minutes and your tooth stops .(hurt)
In order to keep the dentist away, we should never touch ......... food. (health)
Mỗi câu sau có 1 lỗi sai. Tìm và sửa:
Nam received a letter of his pen pal two days ago.
Hoa learns to know how take care of herself.
What is the matter of you, Lan?
Don't stay up so early, it's bad for your health.
Minh felt happily when the dentist filled the cavity.
Remember brushing your teeth every day.
My father always rides his motorbike careful.
He has strong white teeth because he brushes his tooth regularly.
Viết lại câu bằng các từ gợi ý sao cho nghĩa không đổi:
Don't forget to brush your teeth every day.
Remember
Don't stay up late at night.
Remember not
It is very useful to do morning exercises.
 Doing morning exercises
Remember to write a letter to me.
Don't.
You should iron clothes by yourself.
 You should iron your
***************************************
Test Unit 11
I. Chọn từ có cách phát âm khác:
1.
2.
3.
4.
5.
A. measure
A. this
A. disappear
A. wow
A. virus
B. head
B. with
B. year
B. blow
B. slight
C. please
C. mouth
C. dear
C. now
C. write
D. heavy
D. breathe
D. wear
D. how
D. sick
 II. Điền vào chỗ trống với giới từ thích hợp:
What was wrongHoa?
Nga's mother wrote a sick note ..her yesterday.
Millions people catch the common cold every year.
Is there a cure .flu?
My father has a pain..his chest.
The students filledthe medical record and gave them .. the nurse.
Last year my brother workedan engineer..a printing factory.
Did you go to the doctor's?- No, I just stayedbed.
 III. Cho dạng đúng của từ trong ngoặc đơn:
1. What is her ?- She's 44 kilos. (weigh)
2. Write your .on the medical record. (high)
3. The nurse told me to go to the .room. (wait) 
4. Doing exercise regularly can help you keep (health)
5. These medicines can work well with your .. (ill)
6. A cold with coughing, sneezing or running nose is really.....(pleasant)
7. Don't worry. Your cold will last for a few days and then .. (appear)
8. Lan is having a check-up. (medicine)
IV. Mỗi câu sau có 1 lỗi sai. Tìm và sửa:
How weigh are you? – I'm 40 kilos.
What is his high?
The doctor will see you at a few minutes.
The students are having a medicine check-up.
I need to make your temperature, lan.
My brother is one meter 60 centimeters high.
Would you to open your mouth, please?
What didn't Hoa go to school yesterday?
Why don't you come to school yesterday, Hoa?
 Where are you yesterday, Nam?
 I need take your temperature.
 The doctor will see you after a few minutes.
 The doctor told me stay in bed.
 I am having headache.
 What's the matter at you?
Viết lại câu bằng các từ gợi ý sao cho nghĩa không đổi:
My height is one meter 50 centimeters.
I..tall.
Nam is 1,45m tall.
Nam's..
What is your weight?
How?
Remember to have medical check-up every six months.
Don't .
How heavy is your father?
What is
*************************************
Test Unit 12
I. Chọn từ có cách phát âm khác:
1.
2.
3.
4.
5.
A. meat
A. sugar
A. spinach
A. carrot
A. also
B. pea
B. sauce
B. dinner
B. matter
B. follow
C. healthy
C. some
C. ripe
C. pan
C. onion
D. eat
D. salad
D. favorite
D. ate
D. whole
 II. Điền vào chỗ trống với giới từ thích hợp:
The supermarket has plenty.good fruits.
Sugar is good..our life, it gives us energy.
I had rice and chicken .dinner last night.
After tasting the soup, my mother added some salt..it.
You can't stay fitany physical exercise.
Don't use a large amountfatty food every day.
We should eat a varietyfoods every day.
We must wash our hands ..having a meals.
What's..dessert? – There's some ice-cream...the fridge.
We ought to wash salads well..water.
III. Cho dạng đúng của từ trong ngoặc đơn:
1. in eating is very important. (moderate)
2. We must wash fruitbefore eating. (care0
3. A balanced diet and exercise are the keys to a ..lifestyle. (health)
4. Did you cook pork?- Yes, I cooked it for 15 minutes. (good)
5. Beef is her ..meat. (favor)
6. You must wash vegetables before eating because they may be . (dirt)
7. .is my favorite activity at home. (cook)
8. These help you eat in a good way. (guide)
9. Everyone should do exercise to keep fit and stay  (health)
10. I need some medicine because I have a .. (stomach)
 IV. Mỗi câu sau có 1 lỗi sai. Tìm và sửa:
Lan is very clever and her brother is, so.
The food we eat affects our whole lifestyle.
You must wash the spinach carefully after eating.
The medicine can make you feel more better.
Sugar gives us energy and we feel more hungry.
There is sugar in no food.
We should have the guidelines and enjoy the food we eat.
Vegetables often have dirty from the farm on them.
After eat some spinach, he felt terrible.
 Meat and dairy products are protective foods.
V.Viết lại câu bằng các từ gợi ý sao cho nghĩa không đổi:
1. Among the fruits I like apples best.
Apples are my
2. Lan likes chicken most.
Chicken..
3. She wants it to taste good. She added a little salt to the spinach.
She added a little salt to the spinach so..
4. Ba can't smell durians, so he hates them.
Ba hates durians because
5. We should wash salads well in water.
We ought 
***************************************
Test Unit 13
I. Chọn từ có cách phát âm khác:
1.
2.
3.
4.
5.
A. part
A. school
A. table tennis
A. from
A. bump
B. baseball
B. color
B. favorite
B. body
B. jump
C. fast
C. scuba
C. baseball
C. morning
C. club
D. basketball
D. ocean
D. badminton
D. improve
D. cucumber
 II. Điền vào chỗ trống với giới từ thích hợp:
Did you go campingFriday?
I got up half past five this morning.
Nam isn't here .the moment.
Do you often play sports.school?
We often go to the beach..summer.
Mai's birthday is .February 29th.
We know very little the oceans.
We can learn more ....the undersea world thanks...Jacque Cousteau's invention. 
.special breathing equipment, a diver can stay underwater for a long time.
 Most the earth's surface is water.
III. Cho dạng đúng của từ trong ngoặc đơn:
1. Our walkingclub has fifteen.. (participate)
2. I can't understand what you say. Can you speak more. (loud) 
3. Walking is an easy and .activity. (expensive)
4. He can't catch his friends because he runs.. (slow)
5. She's very good at English. She can speak English very. (good)
6. My aunt is a talented artist. She can paint pictures (beautiful)
7. .is the most important thing for people on the road. Therefore, lots of TV programs are made ti raise people of traffic. (safe – aware)
8. We must .....listen to the teachers in the class to do our homework.. (careful-good)
9. Nam swims very fast and beautifully. He is a good . (swim)
10. My mother wants to become a in the future. (science)
 IV. Mỗi câu sau có 1 lỗi sai. Tìm và sửa:
With specially equipment, a diver can stay underwater for a long time.
She ought see a doctor because she is sick.
Would you like play table tennis with me?
She must not finish her homework before going out with her classmates.
A Frenchman, named J.C, invents a deep-sea diving vessel in the early 1940s.
You must come back to home by 9.00 in the evening.
He speaks E very good.
It is very cold outside. You shouldn't close all the windows.
My father works very hardly and carefully.
 Hung sometimes rides his bicycle careless.
V.Viết lại câu bằng các từ gợi ý sao cho nghĩa không đổi:
1. She is a bad singer. =>She sings..
2. His father works very hard.=>His father is.
3. She is a good guitarist. =>She can play th ...  drives (care) 
IV. Mỗi câu sau có 1 lỗi sai. Tìm và sửa:
1. VN attracts a great number of visits from all over the world.
2. Andersen was famous for write interesting fairy tales.
3. The People's Army of VN defeated the French Army at DBP at 1954.
4. Hans Andersen became famous in his fairy tales he wrote. 
V.Viết lại câu bằng các từ gợi ý sao cho nghĩa không đổi:
You should brush your teeth regularly. ->You ought.
Do you want to have a drink? ->Would you..
Ann likes Vietnamese history very much. ->Ann is very interested
My brother can swim very well. ->My brother is a very
The books I like reading the most are fairy tales of Andersen.
My favorite..
 I like watching TV than listening to music.->I prefer
*******************************
 The second-semester Test 
I. Chọn từ có cách phát âm khác:
1.
2.
3.
4.
5.
A. weighed
A. add
A. sugar
A. height
A. touch
B. called
B. amount
B. sauce
B. weight
B. stomach
C. started
C. affect
C. symptom
C. eight
C. chopstick
D. measured
D. appointment
D. serious
D. ate
D. catch
 II. Điền vào chỗ trống với giới từ thích hợp:
My little brother is interested .reading picture books.
You should make an appointment.your doctor before you come to see him.
All the students ..class 7A visited the zoo.
Ba isn't doing his homework...the moment. He is waiting ..his sister .. .the bus stop.
Don't spend too much time..video games.
III. Cho dạng đúng của từ trong ngoặc đơn:
1. People here are very good and. (friend)
2. That girl plays the guitar very .and sings .. (good/beautiful)
3. Playing soocer in the street is very .. (danger)
4. He drove..and had an accident. (care)
5. What is the of the river. (long)
6. Edison's most famous  was the electric light bubl. (invent)
7. When she was young, Mrs. Lien wanted to become a(n)  (act)
8. TV is one of the cheapest forms of  (entertain)
IV.Viết lại câu bằng các từ gợi ý sao cho nghĩa không đổi:
1. Let's go to the movies. ->Why don't.
2. Mr. David is a good E teacher. ->Mr. David teaches.
3. You shouldn't go there alone. ->You ought..
4 Listening to music at home is more interesting than going to the concert.
I prefer
5. He is a slow and more careful driver than his brother.
He drives.
******************************
The first-semester Test
I. Chọn từ có cách phát âm khác:
1.
2.
3.
4.
5.
A. change
A. buffalo
A. meat
A. hold
A. guess
B. orchestra
B. future
B. overseas
B. hundred
B. regular
C. coach
C. drug 
C. reader
C. horrible
C. together
D. chicken
D. much
D. realize
D. hour
D. teenager
II. Mỗi câu sau có 1 lỗi sai. Tìm và sửa:
My uncle lives on the country.
Winter is the colder season in the year.
What time do you go bed?
Nice to meeting you, Lan.
Are there a pictures on the wall?
III. Cho dạng đúng của từ trong ngoặc đơn:
1. I have...time to play than my friends. (little)
2. We take part in .at recess. (act)
3. There are four .in that pop music band. (music)
4. Where is the .. post office. (near)
5. I have a pen pal in the USA and we write to each other  (regular)
IV.Viết lại câu bằng các từ gợi ý sao cho nghĩa không đổi:
How much is this dictionary? => How much does
There are two hundred stamps in Nam's collection.
 Nam's collection
Do you have a cheaper bicycle than this?=>Is this
I get to school in half an hour. => It takes..
It isn't important for you to finish the work today.=>You don't 
There will be a new school in our area next year.=>Our area will
My house is in front of a small lake. => A small lake.
Nam's mother often go to her hospital by bike. => Nam's mother often rides
My school has eighty teachers and one thousand students.
 There are..
Mr. Smith will fly to VN next week. => Mr. Smith will go 
*******************************
Test Unit 8
I. Chọn từ có cách phát âm khác:
1.
2.
3.
4.
5.
A. local
A. open
A. cheap
A. man
A. forest
B. phone
B. cost
B. chair
B. hat
B. hospital
C. post
C. opposite
C. change
C. stadium
C. store
D. month
D. orange
D. machine
D. bank
D. shoe
II. Điền vào chỗ trống với giới từ thích hợp:
How far is it .herethe nearest bank?
Could you tell me the way ..the post office? – Go straight ahead. Take the second street the left. It's ..a hotel and a bookstore.
How often do you write letters you parents?
The shop is .NT street.
I'd like to send a letterthe USA.
I'd like some stamps....overseas mail.
When do you often go.. vacation?
Where are you going .. your summer vacation?
Can you give me a photograph.you?
My brother often goes to work ..bus.
III. Cho dạng đúng của từ trong ngoặc đơn:
1. You should do exersiceto keep fit. (regularly)
2. Do you need any stamps for .mail? (sea)
3. Where is the market? (near)
4. There are many people after the fire. (home)
5. Don't worry. I'll give you the .to the post office. (direct)
 IV. Mỗi câu sau có 1 lỗi sai. Tìm và sửa:
I need buy some stamps and envelopes.
It often take me fifteen minutes to get there.
Could you show me way to the railway station?
The post office is to the right of the bookstore.
I would like send this letter to my uncle in HN.
How long is it from HN to HP?
How many change will she receive?
The post office is on the the cinema and the bank.
I want some stamps of overseas mail.
We write with each other regularly.
 IV.Viết lại câu bằng các từ gợi ý sao cho nghĩa không đổi:
The souvenir shop is on the left of the hotel.=> The hotel is on the
I often walk from my house to school in ten minutes.
It takes me..
Could you tell me how to get to the bank? =>Could you show . 
How much is ths book? => How much does
I get to school in half an hour. => It takes.
How much are those postcards? => What is the total.
Do you have a cheaper phone card than this?=>Is this the
Let's go in and get the things you need.=> What about ..
*******************************
Test Unit 7
I. Chọn từ có cách phát âm khác:
1.
2.
3.
4.
5.
A. write
A. date
A. cake
A. dentist
A. year
B. rice
B. start
B. may
B. few
B. teach
C. public
C. half
C. hard
C. get
C. meat
D. fine
D. class
D. vacation
D. test
D. beach
II. Điền vào chỗ trống với giới từ thích hợp:
Here is the photo .my family.
They often go ..the countrysideholiday.
Mr Lam is very keen.repairing things.
The students are very fond.playing badminton.
Thank youyour help.
Hurry up or you will be latr..school.
Mr. Tuan works in the fields.his brother.
My sister is a student. She works part-time ..a supermarket.
My mother takes care.the family.
 The train will leave.half past ten.
III. Cho dạng đúng của từ trong ngoặc đơn:
1. We should help .people because they don't have their home. (home)
2. I always..my dog mand cat before my meals. (food)
3. He is a . He works in a factory. (work)
4. I find working on the farm very.. I love it very much. (interest)
5. Vnese students havevacations than American ones. (few)
6. Can you tell me a ..day of your life. (type)
7. Is Nam's father a .? (teach)
8. Hoa works 45 hours a week, so she is ..not lazy. (definite)
IV. Mỗi câu sau có 1 lỗi sai. Tìm và sửa:
When will Lan has her vacation?
Which time do your classes finish?
In England, students don't go to school at Chistmas Day.
I think we have few vacations than American ones.
There are much students in our school than in their school.
How much hours does Lan's father work in a week?
In the future robots will make all the work for us.
We are going to have a two-weeks summer vacation in DL next month.
I have less books in English THAN MY CLASSMATES..
Do American students haves more vacations a year to Vnese ones.
IV.Viết lại câu bằng các từ gợi ý sao cho nghĩa không đổi:
HN has many interesting places.=> There are..
I have fewer textbooks than my elder brother.=> My elder brother has
What does my father do? => WHAT is..
Nam likes Electronics best.=> Electronics is..
Vnese students have fewer vacations than A ones.=> A students have
Mr. Lam also has ten days off for his summer vacations.
Mr. Lam also has a 
*********************************
Test Unit 6
I. Chọn từ có cách phát âm khác:
1.
2.
3.
4.
5.
A. youth
A. rehearse
A. concert
A. survey
A. team
B. scout
B. hear
B. collect
B. some
B. please
C. ground
C. ear
C. box
C. sorry
C. meat
D. about
D. fear
D. comic
D. sure
D. bread
II. Điền vào chỗ trống với giới từ thích hợp:
Would you like to come to my house..dinner?
I play basket ball ..the school team.
We always go to the canteen..lunchtime.
Nam enjoys playing computer games.his friends.
Many teenagers like to help elderly people.their housework.
There is an interesting movie.at DDO Theater tonight.
Let's play a game the sun.
They are talkingthe school anniversary celebration.
Would you like to go .the circus after school?
 Students enjoy different activities..school hours.
Mai is often late..class.
 This bag is too heavy. You should ask someone .help.
III. Cho dạng đúng của từ trong ngoặc đơn:
1. Can you play anyinstruments. (music)
2. Many boys and girls join the .club. (act).
3. Nam becomes more active. He is a member of a youth .. (organize)
4. Our teacher gives us a lot of.to do at home this week . (assign)
5. Keep .by doing exersice regularly. (health)
6. Nam has a large of foreign stamps. (collect)
7. Young people often help elderly people in my  (neighbor)
8. In most countries, there are organizations for. (teenage)
9. There are many kinds of  for young people. (entertain)
10. Peter is very .. He plays many sports such as swimming, running, basketball,ect.(sport)
11. They are preparing for their school anniversary .. (celebrate)
IV. Mỗi câu sau có 1 lỗi sai. Tìm và sửa:
Would you like to come for my birthday party, Mai?
You work to much, so you should relax now.
What do Mai do after school?
I want lie on the couch in front of the TV now.
We are going to visiting our teacher.
People are living longer so therer are much elderly people.
Let's going to the school library at recess.
There is an interesting movie at on TV now.
Minh often practices the guitar at his free time.
What about come to my house for lunch?
IV.Viết lại câu bằng các từ gợi ý sao cho nghĩa không đổi:
Why don't we go swimming? => What about.
It's a good thing to do community service. => You should 
Let's listen to some music now. => Why don't
He wants a cup of tea.=> He'd 
Lan plays for the school volley team. => Lan is a..
****************************
Language focus 2