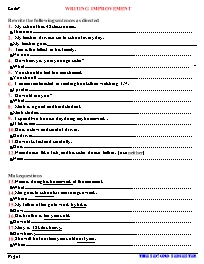 Rewrite the following sentences as directed
1. My school has 42 classrooms.
@ There are
2. My teacher drives a car to school every day.
@ My teacher goes
3. Tim is the tallest in his family.
@ No one
4. How heavy is your younger sister?
@ What ?
5. You shouldn't eat too much meat.
@ You should
6. I'm more interested in reading books than watching T.V.
@ I prefer
Bạn đang xem tài liệu "Đề ôn thi Viết học kì 2 môn Tiếng Anh Lớp 7", để tải tài liệu gốc về máy bạn click vào nút DOWNLOAD ở trên
Rewrite the following sentences as directed
My school has 42 classrooms. 
@ There are	 
My teacher drives a car to school every day. 
@ My teacher goes	 
Tim is the tallest in his family. 
@ No one 	 
How heavy is your younger sister?
@ What	 ?
You shouldn't eat too much meat. 
@ You should	 
I'm more interested in reading books than watching T.V. 
@ I prefer	 
How old are you?
@ What	
Minh is a good and hard student.
@ Minh studies	
I spend two hours a day doing my homework .
@ It takes me	
He is a slow and careful driver.
@ He drives	
He works fast and carefully.
@ He is	
Nam doesn't like fish, and his sister doesn't either. (use neither)
@ Nam	
Make questions
Nam is doing his homework at the moment.
@ What	
Mai goes to school six mornings a week.
@ Where	
My father often go to work by bike.
@ How	
His brother is ten years old.
@ How old	
Mary is 32 kilos heavy.
@ How heavy	
She will be fourteen years old next year.
@ When	
She is unhappy because she knows no one here.
@ Why	
My aunt helped me with the homework.
@ Who	
Fill in the blank with a suitable preposition.
We usually go to school _________the morning, but we never go to school_________the evening.
There'a good cartoon_________T.V _________seven o'clock.
My friend, Daisy sent a letter _________me last week.
I prefer watching T.V and listening_________ pop music_________home.
The weather is usually hot_________summer, but it's often cool_________ night.
Nam is good_________ sports, so he always takes part_________ our school's sports activities.
We have two days off_________weekends and we often go swimming_________Sunday afternoon.
Mr. Nam is famous_________working hard and carefully.
I go_________the steps every day because my classroom is_________the second floor.
Andersen became very famous _________the fairy tales he wrote _________1835 and 1872.
We can learn more_________the undersea world thanks_________Jacques Cousteau's invention.
 Lan can take care_________herself when her parents go_________work.
Give the correct form of verbs in brackets 
Lan enjoy (listen to) ___________________pop music on the radio. 
Where _________they ___________their summer vacation last year ? (spend)
Look! The students ________________badminton in the school yard. (play) 
My mother _______________a new hat for my next birthday next month. (buy )
Nobody ________________ how to use a sewing machine. (know) 
Don't forget __________________ some mangoes and bananas. (buy)
She was busy _________________ dinner in the kitchen. (cook)
We can't go out now because it _________________outside. (rain )
------THE END------