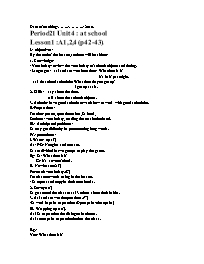 I> objectives:
By the end of the lesson, students will be able to:
1. Knowledge:
- Vocabulary: review the vocabulary of school subjects and timing.
- Languages: +ask and answer about time: What time is it?
 It's half past eight.
+ ask for school schedules: What time do you get up?
 I get up at six.
2. Skills: + say about the time.
 + talk about the school subjects.
3. Attitude: have good attitude towards how to work with good schedules.
Bạn đang xem tài liệu "Giáo án môn Tiếng Anh Lớp 7 - Period 21, Unit 4: At school - Lesson 1: A1, 2, 4 (p42-43)", để tải tài liệu gốc về máy bạn click vào nút DOWNLOAD ở trên
Date of teaching:../../ 2010.
Period21 Unit 4 : at school
Lesson 1 :A1,2,4 (p42-43).
I> objectives:
By the end of the lesson, students will be able to:
1. Knowledge:
- Vocabulary: review the vocabulary of school subjects and timing.
- Languages: +ask and answer about time: What time is it?
 It's half past eight.
+ ask for school schedules: What time do you get up?
 I get up at six.
2. Skills: + say about the time.
 + talk about the school subjects.
3. Attitude: have good attitude towards how to work with good schedules.
II>Preparations:
Teacher: poster, questionnaires, Ss book,
Students: vocabulary, reading the text beforehand.
III> Anticipated problems:
Ss may get difficulty in pronouncing long words.
IV> procedures:
I. Warm- up (5')
A1/ P42: Noughts and crosses. 
Ss are divided in two groups to play the game.
Eg: S1: What time is it?
 S2: It`s seven o'clock.
II. New lesson(25')
Pre-teach vocabulary.(8')
Teach some words using in the lesson.
- Ss repeat and copy in their note books.
2. Survey(10')
Ss go around the class to ask 3 others about their habits.
3. Ask and answer the questions.(7') 
-Ss work in pairs to practice (Open pairs/close pairs)
III. Wrapping up (10').
Ask Ss to practice the dialogue in chorus.
Ask some pairs to practice before the class.
E.g.: 
You: What time is it?
Your friend: It's 9.20.
You: What time do you have Math?
Your friend: 9.30
You: Do you have Literature today?
Your friend: No
You: When do you have Literature?
Your friend: On Tuesday.
- T remarks and gives mark. 
IV. Homework.
Do A1-2 in the workbook
Get ready for the next lesson A3,5
Date:..
Unit 4 : at school
Lesson 1 :A1,2,4 (p42-43).
1. A1. Listen and repeat
7.00
4.15
1.45
8.30
9.40
11.5
6.35
5. 25
3.10
* Vocabulary.
-physics: Môn vật lý 
-physical education: Môn thể dục
- quarter: 1/4 =15 phut
- half: 1/2 = 30 phut.
A2. Answer about you.
* Survey. 
What time do you?
Trang
Mai
An
get up
have breakfast 
go to school 
go back home
have lunch 
A4. Ask and answer the questions.
( picture drill)
+ Model dialogue
S1: What's lan studying?
S2: Lan's studying Physics
S1: What time does Lan have her Physics class.
S2: She has he Physics class at 8.40.
4. Further exercise.
+ Mapped dialogue.
Mapped dialogue.
You
Your friend
What time..............
9.20
What time...Math?
9.30.
.....Literature today?
No,
When........?
On Tuesday.
5. Homework.
V> FEEDBACK:
Date of teaching:../../ 2010.
Period 22 Unit 4 : at school
Lesson 2:A3, 5 (p43-44).
I> objectives:
By the end of the lesson, students will be able to:
1. Knowledge:
- Vocabulary: read and write some words about school subjects: schedule, important, fun.
- Languages: +the Simple Present Tense to talk about schedules.
- When/What time do you have English?
I have it on Monday/ at 8:40.
- What is your favorite subject? I like Math.
2. Skills: + Practice saying about the time things happen.
+ talk about the timetables.
3. Attitude: have good attitude towards how to work with good schedules.
II>Preparations:
Teacher: poster, questionnaires, Ss book,
Students: vocabulary, reading the text 
 Teaching plan
English 7
Period 1: Consolidation
Aims: By the end of the lesson, Ss will be able to grasp the contents of grade 6 and know something about grade 7.
Teaching aids: table and books
Procedure
Consolidation:
Use the tables to introduce the grammar of grade 6
The tenses:
The present simple tense
The present continuous tense
The near future tense
Give some exercises and ask Ss to do to recognize them.
Comparison:
Comparative of short adjective: Adjective + er
Superlative of short adjective: The + adj + est
Introduction: There are sixteen units in this programme. Each unit has 2 parts (A, B)
Presenting new words: Listen - Repeat / Listen - Read
Checking comprehension: Ask - Answer / Practice with a partner / Match / True and False.
Practice: Listening - Speaking - Reading and Writing
Remember: Helping Ss consolidation the contents of the lesson which they've learnt.
Language focus: Summarize the words, phrases and structures after each three unit.
Grammar - Glossary 
Guide Ss to prepare the next lesson: Unit 1 (A1,3,4,5)
Unit 1: back to school
Period 2 + 3: Lesson 1: A - Friends (A12345)
Objectives: By the end of the lesson, Ss will be able to know how to greet and introduce oneself.
Teaching aids: books, cassette, chalks, board
Procedure
Warm up
Ask some questions about the new school year.
- Listen and answer
What do you do during your summer vocation?
What do you say to your friends when you first meet after the summer holiday?
Are you happy to be back again?
New lesson
1. Listen. Then practice with a partner
- Introduce the new lesson and ask Ss to book at the book (1a, 1b/10)
- Look at the picture
- Turn on the tape (2 times)
- Listen. Then repeat in chorus
- Ask Ss to practice
- Work in groups
Explain: 
Nice to see you
Nice to see you again
So am I
( Practice before class
- Now answer
- Copy down
- Work in pairs (3 pairs)
- Work in pairs
Listen and correct. Then give the correct answers.
S1: Ask
S2: Answer
3. Listen. Then practice with a partner
- Ask Ss to look at the picture (p12)
- Look at the picture and answer the questions.
What are they doing?
( They are greeting each other
- Introduce the situation of the dialogue and turn on the tape once.
Explain: Greeting!
- Listen to the tape 
Good morning/ afternoon/ evening
Hi - Hello
- Turn on the tape (twice)
- Listen and repeat in chorus (without book).
( Conclusion: Greet the older people
- Work in pairs (3 pairs)
4. Listen. Complete these dialogues
- Ask Ss to look at the box and explain the uses of and meanings of the questions.
- Listen 
- Guide Ss to complete the dialogues
- Listen to teacher
- Turn on the tape (2-3 times)
- Listen and complete
- Listen and correct the mistakes
+ 4 pairs demonstrate before class
+ Practice
5. Listen. Write the letters of the dialogues in the order you hear.
a) Pre: Ask Ss to look at the pictures and answer the questions.
- Answer the questions
Who are they in the pictures?
What are they doing?
Notice on the time of each picture
( You'll hear 4 conversations describing the pictures but they're not in order. You listen to them and mark the number in good order as conversations in the tape.
b) While:
Turn on the tape (3 times)
- Listen and do the exercise
Correct and give the key?
- Give their results
c) Post: Ask Ss to work in pairs
- Work in pairs
Homework: Give and guide Ss to do the exercise
Copy all the dialogues they've learnt
Do exercise 3, 4 / workbook
Prepare the next lesson