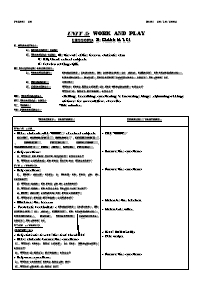 I. Objectives:
 1. Education aim:
 2. Teaching aim: By the end of the lesson, students can:
  talk about school subjects
  develop reading skill.
II. Language contents:
 1. Vocabulary: Computer Science, Be interested in ,map, difficult, do experiments, electronics, repair, household appliances, artist, be good at.
2. Grammar: (none)
 3. Structures: What does Mai study in her Geography class?
 What is Mai's favorite class?
III. Techniques: eliciting, describing, questioning & answering, bingo ,skimming reading.
IV. Teaching aids: pictures for presentation, cassette.
V. Time: 45 minutes
Bạn đang xem tài liệu "Giáo án môn Tiếng Anh Lớp 7 - Period 26, Unit 5: Work and play - Lesson 1: In class (A1, 2)", để tải tài liệu gốc về máy bạn click vào nút DOWNLOAD ở trên
Period: 26	Date: 20/10/2004
UNIT 5: WORK AND PLAY
LESSON 1:	IN CLASS (A 1,2) 
I. Objectives:
	1. Education aim:
	2. Teaching aim: By the end of the lesson, students can:
	˜ talk about school subjects
	˜ develop reading skill.
II. Language contents:
	1. Vocabulary:	Computer Science, Be interested in ,map, difficult, do experiments, 	electronics, repair, household appliances, artist, be good at.
2. Grammar:	(none) 
	3. Structures:	What does Mai study in her Geography class?
	What is Mai's favorite class?
III. Techniques:	eliciting, describing, questioning & answering, bingo ,skimming reading.
IV. Teaching aids:	pictures for presentation, cassette.
V. Time:	45 minutes
VI. Procedures:
Teacher's activities
Students' activities
Warm – up.
- Have students play "BINGO" of school subjects
 MATH, GEOGRAPHY, BIOLOGY , LITERATURE , ENGLISH, PHYSICAL EDUCATION, TECHNOLOGY, FINE ARTS, MUSIC, PHYSICS.
- Ask questions 
 a. When do you have English classes?
 b. What subjects do you have on Tuesday?
Pre – reading. 
- Ask questions 
 1. How many days a week do you go to school?
 2. What time do you go to school?
 3. What time do classes begin and end?
 4. How many subjects do you study?
 5. What's your favorite subject?
- Introduce the lesson.
- Pre-teach vocabulary : Computer Science, Be interested in ,map, difficult, do experiments, electronics, repair, household appliances, artist, be good at. 
While –reading.
Activity 1: 
- Ask students to read the text about Mai
- Have students answer the questions. 
 1. What does Mai study in her (Geography) class?
 2. What is Mai's favorite class?
- Ask more questions 
 1. What school does Mai go to?
 2. What grade is Mai in?
 3. How many days a week does Mai go to school?
 4. What time do classes begin?
 5. What time do they finish?
 6. What does Mai think about Geography?
 7. What is her lesson today?
Activity 2
- Ask students to look at the picture of Ba and ask questions 
 1. Who is this? 
 2. What is he doing?
- Have students read the text silently
- Tell students to answer the questions. 
 a. Ba likes electronics best.
 b. Yes, he does. He enjoys school very much.
 c. He learns to repair household appliances.
 d. He will be able to fix his own appliances.
 e. Yes, he is. His drawings are very good.
- Have students read the text again to do true/false sentences 
 1. Ba is studying at Quang Trung school.
 2. He isn't very interested in school very much.
 3. He is interested in Computer Science.
 4. He can repair the household appliances.
 5. In his free time, he learns to play the guitar and to draw pictures.
Post – reading. 
- Have students practice asking and answering the question.
 What do you learn in (Math) class?
- Play "BINGO"
- Answer the questions. 
- Answer the questions. 
- Listen to the teacher. 
- Listen and write. 
- Read Individually. 
- Pair works. 
- Answer the questions. 
- Individually. 
- Answer the questions. 
- Pair works. 
- Group works. 
- Give feedback 
- Pair works. 
Homework
1. Reread the texts about Mai and Ba.
2. Answer the questions. 
3 Do the exercise A1,2/p. 27-28 (workbook) 
Remarks
------------------------------------------------------------------------------------------------------------------------------------------------------------------------------------------------------------------------------------------------------------------------------------------------------------------------------------------------------------------------------------------------------------------------------------------------------------------------------------------------------------------------------------------------------------------------------------------------------------------------------------------------------------------------------------------------------------------------------------------------------------------------------------------------------------------
_________________________________________b"&"a_________________________________________