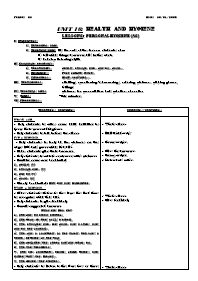 I. Objectives:
 1. Education aim:
 2. Teaching aim: By the end of the lesson, students can:
  tell what things a person did in the past.
  develop listening skill.
II. Language contents:
 1. Vocabulary: polish, change into, put on, pants.
2. Grammar: Past simple tense.
 3. Structures: Daily activities.
III. Techniques: eliciting, questioning & answering, ordering pictures, playing games, telling.
IV. Teaching aids: pictures for presentation and practice, cassette.
V. Time: 45 minutes
Bạn đang xem tài liệu "Giáo án môn Tiếng Anh Lớp 7 - Period 63, Unit 10: Health and hygiene - Lesson 2: Personal hygiene (A2)", để tải tài liệu gốc về máy bạn click vào nút DOWNLOAD ở trên
Period: 63 	Date: 30/01/2005
UNIT 10: HEALTH AND HYGIENE
LESSON 2: PERSONAL HYGIENE (A2)
I. Objectives:
	1. Education aim:
	2. Teaching aim: By the end of the lesson, students can:
	˜ tell what things a person did in the past.
	˜ develop listening skill.
II. Language contents:
	1. Vocabulary:	polish, change into, put on, pants.
2. Grammar:	 	Past simple tense.
	3. Structures:	Daily activities.
III. Techniques:	eliciting, questioning & answering, ordering pictures, playing games, 	telling.
IV. Teaching aids:	pictures for presentation and practice, cassette.
V. Time:	45 minutes
VI. Procedures:
Teacher's activities
Students' activities
Warm – up.
- Ask students to write some daily activities to keep their personal hygiene.
- Ask students to tell before the class.
Pre – listening. 
 - Ask students to look at the pictures on the page 100 and guess what Hoa did.
- Have students give their answers.
- Ask students to match sentences with pictures.
- Explain some new vocabulary 
1. polish (v)
2. change into (v) 
3. put on (v) 
4. pants (n)
- Check vocabulary: Rub out and remember
While – listening.
- Have students listen to the tape the first time to recognize what Hoa did.
- Ask students to give feedback 
- Supply suggested answers.
What did Hoa do?
1. She put on clean clothes.
2. She went to bed at 11 o'clock.
3. She changed into red pants and a shirt, and put on her sandals.
4. She put a sandwich in her lunch box and a bottle of water in her bag.
5. She polished her shoes and put them on.
6. She had breakfast.
7. She ate sandwich, drank some water, and talked with her friends.
8. She ironed her clothes.
- Ask students to listen to the tape two or three times again to put the pictures in order.
- Ask students to give feedback.
a.8 , b.2 , c.5 , d.6 , e.4 , f.7 , g.1 , h.3
Post – listening. 
- Have students play "Rub out and Remember" about what Hoa did.
- Ask students to tell the things Hoa did.
- Ask students to write some things they did yesterday.
- Have students tell before the class.
- Whole class.
- Individual work 
- Group works. 
- Give the answers.
- Group works. 
- Listen and write. 
- Whole class.
- Give feedback 
- Whole class.
- Give feedback 
- Copy down.
- Team works
- Group works. 
- Individual work 
Homework
1. Write about the things Hoa did yesterday.
2. Write a short paragraph about what you did last (Saturday)
Remarks
------------------------------------------------------------------------------------------------------------------------------------------------------------------------------------------------------------------------------------------------------------------------------------------------------------------------------------------------------------------------------------------------------------------------------------------------------------------------------------------------------------------------------------------------------------------------------------------------------------------------------------------------------------------------------------------------------------------------------------------------------------------------------------------
_________________________________________b"&"a_________________________________________