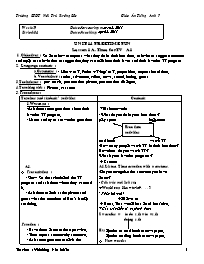 1 .Objectives : Sts learn how to express what they do in their free time, to invite or suggest someone and reply to an invitation or suggestion.they can tell about their favor and their favorite TV program
2. Language contents :
a.Grammar : - Like + to V, Prefer + V-ing/ to V, preposition, expression of time.
b. Vocabulary :series, adventure, criket, news, sound, boring, guess
3.Techniques : pre- teach, presentation picture, presentation dialogue.
4.Teaching aids : Picture , cassette
Week:29	Date of preparing : march 2, 2011
Period :84 	Date of teaching : april 2, 2011
UNIT: 14 FREETIME FUN
Lesson 1 A. Time for TV A1
 1 .Objectives : Sts learn how to express what they do in their free time, to invite or suggest someone and reply to an invitation or suggestion.they can tell about their favor and their favorite TV program
2. Language contents :
a.Grammar : - Like + to V, Prefer + V-ing/ to V, preposition, expression of time.
b. Vocabulary :series, adventure, criket, news, sound, boring, guess 
3.Techniques : pre- teach, presentation picture, presentation dialogue.
4.Teaching aids : Picture , cassette 
5. Proceduces:
Teacher and students' activities
Contents
Free time activities 
1.Warm up :
-Ask them some questions about their favorite TV program.
- Listen and try to answer the questions
 A1.
Presentation :
 - Show Sts the schedule of the TV program and ask them where they can read it. 
 - Ask them to look at the picture and guess what the members of Hoa's family are doing.
.Practice :
- Have them listen to the tape twice.
- Then repeat sentence by sentence.
- Ask some questons to elicit the meaning of newwords.
- Mention the structure " like/ prefer to +V
- Let them practice in pairs
- Call some pairs reading the dialouge.
- Ask them to do the exercises by themselves.
- Call some Sts to copy their answers
Consolidation : 
Asl Sts to translate the dialogue again. 
Homework : A1(workbook )
 * Make network:
- What do you do in your free time ?
play sports help mom
read book watch TV 
-How many people watch TV in their free time?
How often do you watch TV?
What is your favorite programs?
à Cartoon 
A1.Listen. Then practice with a partner.
-Do you recognize the structure you have learnt?
- Caáu truùc môøi lòch söï:
+ Would you like + to-inf-. . . ?
- Nhaän lôøi môøi:
àI'd love to
à Great. That would be a lot of fun / nice.
* Caáu truùc dieãn taû söï thích hôn:
S + prefer + to do s.th + to +s.th
 doing s.th
Ex: I prefer to read book to newspaper.
 I prefer reading book to newspaper.
New words :
- News (n) : baûn tin
- Series (n) : taäp (phim )
- Adventure (n) : cuoäc phieâu löu
- Criket (n) : con deá
- Prefer (v) : thích hôn
- Sound (v) : nghe coù veû
- Boring (a) : chaùn, buoàn
- Guess (v) : ñoaùn
* Practice listening and reading:
- Does Hoa'family always watch TV?
- What about Lan'family?
Key :
 a) C 
 b) A 
 c) B
 e)D
* making, recepting and refusing an invitation politely.
 - Prefer to do s.th ? doing s.th to s.th.
 - Ask and answer about the topic of televition.
* Learn by heart the new words and structures.
Notes: .
Week:30	Date of preparing : April 4, 2011
Period :85 	Date of teaching : April 5, 2011
UNIT: 14 FREETIME FUN
Lesson 2 : A2
 1 .Objectives : Sts learn how to express what they do in their free time, to invite or suggest someone 
and reply to an invitation or suggestion.they can tell about their favor and their favorite TV program
2. Language contents :
a.Grammar : - Like + to V, Prefer + V-ing/ to V, preposition, expression of time.
b. Vocabulary :cowboy, New Age Theater, drama, detective, Youth Theater, Worker's Theater, pop concert, classical concert, Opera house, Youth culture House, nightly, except, play.
3.Techniques : pre- teach, presentation picture, presentation dialogue.
4.Teaching aids : Picture , cassette 
5. Time : 45mins
6. Proceduces:
Teacher and students' activities
Contents
Revision :
- Have Ss answer the questions: 
- Ss pair work 
A2.
Presentation :
 - Show Sts some posters about some films and enternment programmes.
 - Ask them to work in pairs, tell what they want to do in their free time and what they dislike.
.Practice :
- Show Hoa and Lan's schedule and then ask questions about Hoa and Lan's activities.
- Introduce the content of the dialogue the students are going to listen.
- let them listen to the tape twice; have them repeat chorally.
- Let them practice in pairs
- Ask them to notice the suggestion or polite requests with " would you like? ", " Let's." "What about you ? "," Can you make it on..?
T:Give examples.
Ss: Take notes .
Ss: Give another examples.
- Ask Sts to make other dialogues, using he information given in their schedule and the advertising posters.
- Call some pairs of students and them practice before class.
Consolidation : 
T:Remind the grammar and the content of the dilogue.
S: Remember. 
Homework : A1(workbook )
 - What do you usually do in the evening?
- Do you often watch TV ?
- What programs do you like best? 
A2.Listen and read. Then practice with a partner.
* Look at the poster:
Ha Noi Youth Culture House: Nhaø vaên hoaù thanh nieân Haø Noäi
Pop Concert : Chöông trình nhaïc pop
Ha Noi Opera House : nhaø haùt lôùn Haø Noäi
Classical Concert: hoaø nhaïc coå ñieån
Fansland Theater: raïp Fansland
Detective Movie : phim trinh thaùm
Nightly: haøng ñeâm
New Age Theater : raïp Theá Heä Môùi
Cowboy Movie :phim cao boài
* Look at the poster and practice asking and answering in pairs:
- Which program do you like ?
* you are going to listen to a conversation between Hoa and Lan. They are discussing a suitable program to see. You listen and answer : Which program will they see ?
* Revision :
- Caáu truùc theå hieän lôøi môøi lòch söï :
Would you like + to-inf. . . ? 
EX: Would you like to go to the movie ?
Caáu truùc gôïi yù , ñeà nghò :
+ How about + V-ing . . . ?
+ What about + V-ing. . . ?
+ Let's + V- infi. . . 
EX: How about going to the movie ?
 What about going to the movie ?
 Let's go to the movie.
* Practice listening and answering:
Which program will they see?
They will see cow boy movie.
Practice new dilogue:
Making new dilogues:
Notes:
Make a polite invitation:
Would you like + to-infi. . . ? 
EX: Would you like to go to the movie ?
Caáu truùc gôïi yù , ñeà nghò :
+ How about + V-ing . . . ?
+ What about + V-ing. . . ?
+ Let's + V- infi. .
The content of the dilogue.
Learn by heart new words.
Exercise A2
Week:30	Date of preparing : April 6, 2011
Period :86 	Date of teaching : April 7, 2011
UNIT: 14 FREETIME FUN
Lesson 3. A3+ Remember
 1 .Objectives : Help Sts practice reading comprehension about Television in VietNam
2. Language contents :
a.Grammar : - Like + to V, Prefer + V-ing/ to V, preposition, expression of time.
b. Vocabulary :On TV.
3.Techniques : pre- teach, presentation picture. 
4.Teaching aids : Picture , cassette 
5. Time : 45mins
6. Proceduces:
Teacher and students' activities
Contents
Warm-up:
- Questions:
Presentation A3:
 - Show Sts some posters about some films and enterainment programmes on TV .
 - Ask them to work in pairs to asnwer the questions.
.Practice reading:
- Ask questions about the contend of the passage .
- Introduce the content of the passage the students are going to listen.
- let them listen to the tape twice; have them repeat chorally.
- Let them practicereading individually.
- 
- Ask Sts to read the passage and answer the questions.
- Call some students to read the whole passage before class.
- Correct the answer and write the answer on the board.
Ss: Copy the key.
SS: Ask and answer in pairs.
T: Give new words.
Ss read the new words.
Ss: Copy them down.
Ss : Read the summmary and fill in each blank the right word.
Ss : write missing word on the board .
T: Correct .
Ss : read the whole summary .
Consolidation : 
T:Remind the grammar and the content of thepassage.
S: Remember. 
T: Remind the grammar in remember.
Homework : A(workbook )
 -Do you like watching TV?
-Do you have a TV set at home?
-What about your neighbors?
* Introduction:
-We are going to read a pssage entitled " TV in VietNam" 
*Practice reading:
What is the idea of the passage ?
-Is it similar to your guesses( The development of TV in VietNam)
-Reading and answering questions about the content of the passage .
-Did many people in VietNam have TV set in their home ?
-What did they always do after dinner?
-What color was the TV program 30 years ago?
-Where do people watchTV today?
-Do they spend much time together ?
The key:
-No, only a few people had TV sets .
30 years ago, they always gathered both outside and inside their neighbor's house to watch TV.
-They were black and white.
-Today people watch TV in their own living rooms
-They don't spend much time together.
* New words:
-Owner (n) : chuû 
 -Gather (v): taäp trung 
- Anymore : nöõa 
à Complete the summary 
Key:
1. people 2.not 3. TV 4 . popular 5. evening 6.gather 7 they 8,tpoday. 9.have 10 .like 11. know
 Practice reading 
 Translate the pasage into Vietnamese.
The content of the passage.
Remember:
What would you like to watch ?
I'd like to watch ..
How about . . . .?
What about . . . .?
Are you free on . . . . ?
Learn by heart new words.
Exercise A3
Week:30	Date of preparing : April 8, 2011
Period :87 	Date of teaching : April 9, 2011
UNIT: 14 FREETIME FUN
Lesson 4 : B, What 's on ? B1-B2
 1 .Objectives : Sts learn more about TV and they can tell about their favor and their favorite TV program
2. Language contents :
a.Grammar : - Like + to V, Prefer + V-ing/ to V, preposition, expression of time.
b. Vocabulary :On TV 
3.Techniques : pre- teach, presentation picture, presentation dialogue.
4.Teaching aids : Picture , cassette 
5. Time : 45mins
6. Proceduces:
Teacher and students' activities
Contents
Warm –up :
The summary of the passage. 
Ask them some questions about their favorite TV program.
 A1.
Presentation :
 - Show Sts the schedule of the TV program and ask them where they can read it. 
 - Ask them to look at the picture and guess what the members of Hoa's family are doing.
.Practice :
- Have them listen to the tape twice.
- Then repeat sentence by sentence.
- Ask some questons to elicit the meaning of newwords.
- Mention the structure " like/ prefer to +V
- Let them practice in pairs
- Call some pairs reading the dialouge.
- Ask them to do the exercises by themselves.
- Call some Sts to copy their answers
Consolidation : 
Asl Sts to translate the dialogue again. 
Homework : A1(workbook )
 Read the summary.
B1: Listen and practice with a partner.
Introduction:
What time do you watch TV?
What is your favorite programs?
What program is on TV now?
Who is the character?
Which cartoon is the character from?
Do you like to watch cartoon on TV?
Which charater do you like best?
We are going to listen to a conversation between Nga and Lan.What arem they talking about?
Do they like cartoon?
* Caáu truùc 
- S + prefer + to do s.th
 doing s.th
- S+ like to do / doing 
Ex: I prefer to read book to to watch TV.
 I prefer reading book to watching TV.
 -She likes watching TV.
 - Do you like to play badminton?
New words :
- Sport show (n) : Chöông trình theåû thao
- Catrtoon (n) : phim hoaït hình
* Answer the questions:
The key:
a.No ,she doesn't .Because there aren't any good programs for teenagers. 
b.Ba watches sport shows, cartoons and movies.
c.Nga likes towatch programs about teenagersin other countries.
d.Because they don't play the kind of music she likes.
e.She is going to listen to the radio and may be reads a book.
* Practice listening and reading:
B2: Litsen and write the time of the programs.
New words:
Eraly new (n) baûn tin sôùm
Weather forecast (n) döï baùo thôøi tieát
The world today
- Key :
 a) Children 's program starts at 5. 
 b) The early news is at 6 
 c) The weather forecast is at 10 past six.
 d)The movies:" A first full of dollar " " starts at 7 
Use the key to ask and answer.
What time does the children's program start?
-It starts at . . . . .
 - Ask and answer about your favorite programs on televition.
* Prefer to do s.th ? doing s.th to s.th.
* Like to do / doing 
* Learn by heart the new words and structures.
Week:30	Date of preparing : April 11, 2011
Period :88 	Date of teaching : April 12, 2011
UNIT: 14 FREETIME FUN
Lesson 5 B :B3 + B4 - REMEMBER
 1 .Objectives : Sts can learn about television throught out listening and reading comprehention.
2. Language contents :
a.Grammar : - The present simple tense
b. Vocabulary : On TV
3.Techniques : pre- teach, presentation picture, 
4.Teaching aids : Picture , cassette 
5. Time : 45mins
6. Proceduces:
Teacher and students' activities
Contents
TV programs
Revision :
- Play network: Write the names of TV programs
 B3
Presentation :
 Call Ss to look at the posters and answer the questions.
 T: Prsent new words.
 Ss: Copy new words .
T: Ask Ss torepeat them.
Ss: Read aloud new words.
T: Give the tape .
Ss: Listen to the tape.
.Practice :
- Introduce the content of the passage the students are going to listen.
- let them listen to the tape twice; have them repeat chorally.
- Let them practice reading
- Ask Sts toread the passage and answer the questions.
- Call some pairs of students to ask and answer before class.
-SS: Write answer on the board.
T:Correct .
Ss: Copy.
B4. Write. Complete the passage. Use the words in the box.
Read the passage and find the main idea.
T: Give new words .
Ss: Repeat in chorus.
Ss: Copy new words.,
Ss: Read the pasage and fill the words in the box in each blank.
Ss: Work in groups and write on the board.
T: Correct .
Ss: Read the whole the passage.
Consolidation : 
T:Remind the grammar and the content of the passage .
T: Give questions and call Ss to answer.
S: Remember. 
Homework : B3 ,B4(workbook )
 film news
cartoon game shows
 B3.Listen and read. Then answer the questions:
Look at the picture:
* Look at the poster:
- Do you recognize the characters in each picture?
(1) The Moffatts band
(2) 4 contestants of " The road to the Olympia peak"
(3) The famous detective Sherlock Homes.
* New words :( translate in to VNese)
- Pop music = popular music: - Contest (n)
- Contestant (n)
- Audience (n)
- Show = perform (v)
- Imports (n)
- Knowledge (n)
- Folk music 
* you are going to listen to the tape about 3 popular TV programs. Look at the book and tell me again : What are the programs?
* Listening the tape:
(1) pop music (2) contests (3) imports
* Answer the questions:
The key:
a. Teenagers like to hear the latest pop music and see the shows of their favorite artists.
b. In contest programs, the contestants are studentd, workers or family members.
c. Imports usually include police and hospital series.
* Practice asking and answering in pairs using questions:
- Do you like watching. . . ?
- What is your most favorite program?
- What TV programs do you want to see?
B4. Write. Complete the passage. Use the words in the box.
- You are going to read apassage about the favorite programs of teenagers and the development of TV in the future. You read and find out the main idea of the passage.
* New words :( translate in to VNese)
- TV game show :
- TV talk show :
- Ordinary character :
- Settellirre TV :
- A wide variety of programs :
- Receive :
 * After reading the passage, now you look at the words in the box and complete the passage 
* The key:
1. around 2. watch 3. listen 4. series 5.show 6. like 7. station 8. receive 9. cities 10. possible 
* Reading the complete passage:
- What is the most popular TV show in a lot of countries ?
- What can people in many countries watch beside ordinary TV?
* Remember:
- What kinds of programs do you like?
 I like programs about. . . 
- Teenagers like to hear the latest pop music.
- I don't really like. . . 
- I prefer. . . 
- 
The content of the passage.
-Learn by heart new words.
-Exercise B3,B4
-Consolidate for the one period test.
Notes:-----------------------------------------------------------------------------------------------------------------------------------------------------------------------------------------------------------------------------------------------------------------------------------------------------------------------------------------------------------------------------
Week:31	Date of preparing : April 
Period :89 	Date of teaching : April 9, 2009
ENGLISH TEST
 I.Objectives :After finishing the test, students( Ss) can review the knowledge and have mark .At the same time teacher can get feedback from students to adjust the technique.
II.Language contents:
 Structures:	
 Adverbs and ajectives.
Simple tense.
Suggestion
 Vocabulary: On TV, outdoor activities, sports.	 
 Skills: Reading ,writing	
 III.Teaching aids:	Text book. exercise book, sheet of photocopied paper.
IVTime:	45 ms
 V.Procedures 
 1/Organization: 
 Greeting and checking the attendance.
 2/ New lesson