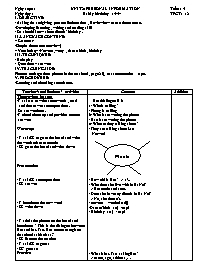 I. OBJECTIVE:
- Asking for and giving personal information , Review how to use future tense.
-Developing listening , writing and reading skill
- Sts should know about friends' birthday .
II. LANGUAGE CONTENS:
* Grammar:
-Simple future tense (review)
* Vocabulary: :Nervous, worry , date o birth , bitrhday
III. TECHNIQUES:
- Role play
- Questions – answers
IV. TEACHING AIDS:
Pictures (enlarge from picture in the text book, page 25), cassette recorder + tape.
V. PROCEDURES:
-Greeting and checking attendance .
Bạn đang xem tài liệu "Giáo án môn Tiếng Anh Lớp 7 - Unit 2: Personal information - Period 12: B: My birthday: 4-5", để tải tài liệu gốc về máy bạn click vào nút DOWNLOAD ở trên
Ngày soạn : UNIT 2: PERSONAL INFORMATION Tuần : 4 
Ngày dạy : B: My birthday : 4-5* TPCT : 12
I. OBJECTIVE:
- Asking for and giving personal information , Review how to use future tense.
-Developing listening , writing and reading skill
- Sts should know about friends' birthday .
II. LANGUAGE CONTENS:
* Grammar:
-Simple future tense (review)
* Vocabulary: :Nervous, worry , date o birth , bitrhday
III. TECHNIQUES:
- Role play 
- Questions – answers	
IV. TEACHING AIDS:
Pictures (enlarge from picture in the text book, page 25), cassette recorder + tape.
V. PROCEDURES:
-Greeting and checking attendance . 
Teacher's and Students' activities
Contents
Addition
The previous lesson:
-T asks sts to write some words , read 
 and the answer some questions .
 Sts answer them .
-T checks them up and provides correct 
 answers
Warm-up:
- T asks SS to go to the board and write the words relate to months
- SS go to the board and write down
Presentation
- T asks SS some questions
- SS answer
- T introduces the new word
- SS write down
- T sticks the picture on the board and introduces " This is the dialogue between Hoa and Mr. Tan. Hoa comes to register for school at his class."
- SS listen to the teacher
- T asks SS to guess
- SS' guesses
Practice
- T has SS listen to the dialogue and check their guesses
- SS listen and check
- T asks SS to listen again and find out the answers
- Whole class
- T calls on some SS to read aloud the answers
- SS read aloud
- T let SS practice the dialogue with a partner
- Pairwork
- T calls on some pairs to practice the dialogue
- Practice
- T sticks the sub-board on the board
- SS observe
- T asks SS to choose the best answer
- Individual work
- T calls on some people to go to the board and circle the correct answer
- SS give the answer
- T calls on some pairs to ask and answer the full sentences
- Practice
Production
- T asks SS to introduce themselves
- Whole class
Homework
-T asks sts checks them at home .
 Sts listen to them .
+ Read dailogue B 6 
a/ Who is calling ?
- Phong is calling 
b/ Who is answering the phone 
- Han is answering the phone 
c/ Who are they talking about ?
- They are talking about Lan 
 Network
Months
- How old is Hoa? => 13.
- Who does she live with in Ha Noi?
=> Her uncle and aunt.
- Does she have any friends in Ha Noi?
=> No, she doesn't.
- nervous = worried (adj)
-Date of birth ( n) -expl
- Birthday ( n ) - expl
- What is Mr. Tan asking Hoa?
=> name, age, address,
- What's her name?
- What's her date of birth?
- What's her address?
- What's her telephone number?
Answer.
- Pham Thi Hoa.
- June 8th. She'll be 14 on her next birthday.
- 12 Tran Hung Dao Street.
- 8 262 019.
* Multiple choice:
1) How old is Hoa now?
a. 12 b. 13 c. 14 
2) How old will she be on her next birthday?
a. 13 b. 14 c. 15 
3) When is her birthday?
a. 8 June b. June eight c. June 8th
4) Who does Hoa live with?
a. Her parents. b. Her uncle. 
c. Her uncle and aunt.
5) Why is Hoa worried?
a. She has a lot of friends.
b. She doesn't have any friends.
c. She lives far from home.
1) How old will you be on your next birthday?
2) Who do you live with?
3) What is your address?
-Learn new words by heart 
-Read passage B4 and answer them again
-Do exercise book ( part B ) 
-New lesson unit 2 ( B 6-7 -R ) 
* RÚT KINH NGHIỆM :
........
 12