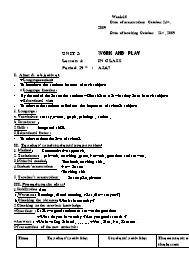 UNIT 5: WORK AND PLAY
Lesson 4: IN CLASS
Period 29th : A5,6,7
I. Aims & objectives:
+ Language content:
- To introduce the students features of each subjects
+ Language function:
- By the end of the lesson the students wil be able to talk what they learn in each subjects
+ Educational aim:
- To educate the students to find out the important of school's subjects
1. Language:
a. Vocabulary : essay, events, graph , paintings , author .
b. Structures :
2.Skills: integrated skills
3.Educational factor:
 Week:10 
Date of preparation: October 24th, 2009
Date of teaching October 21st , 2009
UNIT 5:	WORK AND PLAY
Lesson 4:	IN CLASS
Period 29th :	A5,6,7
I. Aims & objectives:
+ Language content:
To introduce the students features of each subjects
+ Language function:
 By the end of the lesson the students wil be able to talk what they learn in each subjects
+ Educational aim:
To educate the students to find out the important of school's subjects
1. Language: 
a. Vocabulary : essay, events, graph , paintings , author .
b. Structures :	
2.Skills: integrated skills
3.Educational factor:
To educate them the love of school
II. Teacher's and students' preparation:
1. Method: Communicative approach.
2. Techniques: pairwork, matching ,game. Network , questions and answers, 
3.Material needed: Text book, teaching aids. . 
4.Students'preparation: -New lesson
	 -Teaching aids
5. Teacher's preparation: lesson plan, pictures 
III-Procedures in class:
1.Stabilization:1ms
 a.Warm up: Greetings. (Good morning, class./ How are you? )
 b.Checking the absence: Who is absent today?
2.Checking up the previous knowledge.
+Questions : Calls two good students to answer the questions
 + What do you have today ? Are you good at math ?
+Answers : +We have Eng lish and . . . . .. , + Yes , I am . No , I am not . 
3-Presentation of the new materials: 
Time
Teacher's activities
Students' activities
The contents of
the lesson
5ms
 8ms
10ms
3ms
I-Lead in:
1-categories
Has the students work in two team A&B 
-Asks them to write on the board words relating to each subject as much as possible
The team has more correct words is the winner
2-Tells the aim of the lesson 
" In our lesson today, We are going to study to find out features of each subject ."
II-Pre-practice:
1-Pre-teaching vocabulary
-Teaches word by word following the steps of teaching them
1-Vocabulary
+essay(n)(explanation )
+past(a) ( antonym )
+event(n)(translation )
+world(n) ( explanation )
+painting(n) (drawing)
+calculator(n)(realia)
+ graph (n) ( drawing )
2-Checks understanding of vocabulary
 -Has them play "rub out and remember"
3-Pre-reading 
-Has them discuss the questions
+What do you learn in Geography / Physics / History / Literature?
-Calls some to tell their knowledge about these subjects
III.Controlled Practice:
-Reads the pasage on page 51
-Has them to read silently
Calls two students to read the text aloud
Feedbacks on their pronunciation
-Asks them to read the passage again and answer to the questions 
on the subboard
+Questions for the good students 
-Calls some good couples to ask and answer the questions
a-What do we study in literature ?
b-What do we study in history?
c-What do we study in geography ?
d-What do we study in physics ?
Comments and makes any necessary correction
+Questions for the weakstudents 
-Calls some weak couples to ask and answer again.
Helps them answer well
-Checks their prediction
*Odd one out:
-Makes the exercise clear
-Has them to work in group, then give the answer
-Calls some to answer
Corrects their mistakes
-Asks some weak students to read the correct ones 
IV. Free-Practice:
*B6:
-Asks them to match each subject to the right items
-Divides the slass into 2 groups:A and B
+Group A reads the items
+Group B has to listen and call out the right subject
+One mark for one correct answer
+Which group with higher marks is the winner
*Has them do "play with words"
-Reads
-Calls some to read
-Has them to play a game
+Divides the class into 6 groups
+Has them to practise reading as past as possible
+Each group has one representative read the poem
+The student who reads the fastest is the winner 
V.Consolidation:
+Asks them some questions 
-What do we study in literature ?
-What do we study in geography ?
-What do we study in history ?
-What do we study in physics ?
Work in groups 
Play the game following the teacher's instruction
Team A
Team B
Literature
English,math
geography
 . . . . . . . . .
Music , art
Biology ,
History
Chemistry . . .
Listen to the teacher's presentation
Listen to the teacher then repeat
Guess the meaning of the newwords
Copy the newords
Play the game following the teaher's instruction
Work in pairs , then discuss the questions
Answer the teacher's questions
Listen to the teacher
Read the text silently
Read the text aloud
Listen
-Work in pairs
The good students answer
S1:We learn about books and write essay .
S2:We study past and present events in vietnam and around the world .
S3 :We study different countries .
S4 : . . . . . . . .
Listen and take note
The weak students answer
Listen
Listen
Do the exercise in groups of four
Answer
 Listen and take note
The weak students read the answers
Work in groups
Play the game in their team
following the teacher's instruction
Play the game
Read
Answer the teacher's questions
S1:We study about books . . . 
S2:We study different countries
S3: We study past and present events . . .
S4 :We study how thing works
UNIT 5: 
WORK AND PLAY
lesson : In class?
Period 29th A5,6,7
1-Vocabulary
+essay(n) = baøi tieåu luaän
+past(a)#present
+event(n) = söï kieän 
+world(n) = theá giôùi
+painting(n)=drawing
+calculator(n) = maùy tính
+What do you learn in Geography / Physics / History / Literature ?
+ In Literature, we learn tabout books and write essays
+ In Geography, we study about different countries and their people
+In Physics, we learn how tings work.
+In History, we study past and present events in Viet Nam and around the world
* Odd one out 
paintings
basketball games
prepositions
England
*Matching each subject to the correct items
Physicaleducation -games,
running shoes , ball
Geography – map, globe, atlas
Music – piano, guitar, songbooks
Art – paint, pencils, paper
Math – graph, equations, calculator . 
Remember
+Wh- questions
+features of subjects 
4.Homework: (5ms)
-Asks them to do the following things :
-Read the passage and learn the answers in the lesson well
-Write a passage to describe school's subjects ( 40 words )
-Prepare the next period B1,2 – Unit 5
5.Self-evaluation:
________________________________________________________________________________________________________________________________________________________________________________________________________________________________________________________________________________________________________________________________________________________________________