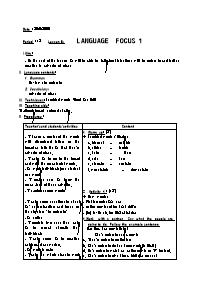 I.Aim:
- By the end of the lesson, Ss will be able to talk about intentions with be going to and further practice in adverbs of place
II. Language contents:
1. Grammar:
Review : be going to
2. Vocabulary:
Adverbs of place
III. Techniques: Jumbled words, Word Cue Drill
IV. Teaching aids:
Textbook, board, colored chalks.
Bạn đang xem tài liệu "Giáo án môn Tiếng Anh Lớp 8 - Unit 2: Making arrangements - Period 12, Lesson 5: Language focus 1", để tải tài liệu gốc về máy bạn click vào nút DOWNLOAD ở trên
Date : 26/9/2006
Period : 12 Lesson 5: LANGUAGE FOCUS 1
I.Aim:
- By the end of the lesson, Ss will be able to talk about intentions with be going to and further practice in adverbs of place 
II. Language contents:
1. Grammar: 
Review : be going to
2. Vocabulary:
Adverbs of place
III. Techniques: Jumbled words, Word Cue Drill
IV. Teaching aids:
Textbook, board, colored chalks.
V. Procedures:
Teacher'sand students'activities
Content
- T hangs a poster of the words with disordered letters on the board an tells the Ss that they're adverbs of place.
- T asks Ss to go to the board and write the meaningful words.
- Ss work individualy (one student one word)
- T makes sure Ss know the mean -ings of these adverbs.
- T explains some words
- T asks some questions to check Ss' understanding and focus on the structure "be going to"
- Ss notise
- T models two cues then asks Ss to repeat chorally then individualy
- T asks some Ss to practise asking and answering.
- Ss work in pairs
- T asks the whole class to work in pairs
T explains how to do 
Ss work in group
T asks some students to practice in front of the class
T asks Ss to make the sentences
Ss give feedback
T corrects 
1. Warm up: (5')
ª Jumbled words / Marks:
a. tdeousi 	 = 	outside
b. siiden 	 = 	inside
c. hetre 	 = there
d. erhe 	 = 	here
e. stupairs 	 = 	upstairs
f. wonstairds	 =	downstairs
2 . Activity 1 : (15')
ª New words:
- Fishing rods: Caàn caâu
- Action movie: phim haønh ñoäng
- (to) invite sb. to: Môøi ai tôùi ñaâu
1.Work with a partner. Say what the people are going to do. Follow the example sentence 
Ex: Nga has movie ticket
 She's going to see a movie
a. They're going to go fishing
b. She's going to do her homework (in Math)
d. He's going to watch an action movie on TV toningt.
e. She's going to give him a birthday present
ª Complete the list: 
Model sentences:
Are you going to see a movie ?
Yes, I am / No, I'm not
2. Word Cue Drill:
a. see a movie
b. play sports
c. meet your friends
d. help your mother
e. do your homework
f. watch T.V
4. Consolidation: (8')
Make 5 sentences with structure " be going to..
Write 6 sentences about your house , using adverbs of place
5. Homework: (2')
- Learn by heart Advs of place
- Do exercises 5, 6 page 18, 19
Prepare : exercise unit 1 (cont...)
COMMENTS: