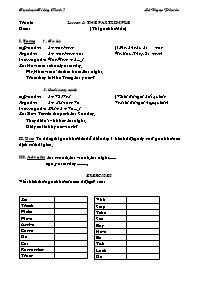 Week: Lesson 1: THE PAST SIMPLE
Date: (Thì quá khứ đơn)
I. Form: 1. To be:
Affirmative: S + was/ were (I, He, She, It, 1 : was
Negative: S + was/ were not We, You, They, 2 : were)
Interrogative: Was/ Were + S .?
Ex: He was at school yesterday.
 Mr. Nhat wasnt in that hotel last night.
 Were they in Nha Trang last year?
Bạn đang xem tài liệu "Giáo án Tự chọn Tiếng Anh 7 tiết 1 đến 6", để tải tài liệu gốc về máy bạn click vào nút DOWNLOAD ở trên
Week:	Lesson 1: THE PAST SIMPLE
Date: (Thì quá khứ đơn)
I. Form:	1. To be:
Affirmative: S + was/ were	(I, He, She, It, 1 : was
Negative: S + was/ were not	We, You, They, 2 : were)
Interrogative: Was/ Were + S ..?
Ex: He was at school yesterday.
 Mr. Nhat wasn't in that hotel last night.
 Were they in Nha Trang last year?
2. Ordinary verb:
Affirmative: S + V2/ Ved	(V2: là động từ bất qui tắc 
Negative: S + did not + Vo	Ved: là động từ hợp qui tắc) 
Interrogative: Did + S + Vo..?
Ex: I saw Tam in the park last Sunday.
 They didn't visit her last night.
 Did you finish your work?
II. Use: Ta dùng thì quá khứ đơn để diễn đạt 1 hành động xảy ra ở quá khứ xác định rỏ thời gian.
III. Adverbs: last month, last week, last night
 ago, yesterday..
EXERCISES
Viết hình thức quá khứ của các động từ sau:
Eat
Watch
Make
Move
Arrive
Come
Do
Cut
Remember
Wear
Visit
Stop
Take
See
Buy
Have
Be
Talk
Look
Go
Week:	Lesson 2 : EXERCISES (THE PAST SIMPLE)
Date: 
I. Dùng động từ cho sẵn ở thì quá khứ để điền vào chổ trống:
buy take go return be wear eat receive cut watch
1. The seafood was very delicious.
2. Hoa _______ a letter from her pen pal Tim yesterday.
3. I _________ to the movie theater last night.
4. They ______ fish and crab for lunch.
5. Liz ______ to Ha Noi from Nha Trang two days ago.
6. He ______ a blue shirt in his birthday party.
7. Mr. Robinson ______ Liz a cap.
8. They ________ the children to the zoo last Sunday.
9. Mai _______ TV a lot last night.
10. We ______ the grass around our house a week ago.
II. Hãy chuyển các câu sau sang phủ định và nghi vấn:
1. They went to Nha Trang last month.
à------------------------------------------------------------------------------------
à------------------------------------------------------------------------------------
2. He played table tennis with his father.
à------------------------------------------------------------------------------------
à------------------------------------------------------------------------------------
3. Lan saw you in the park last week.
à------------------------------------------------------------------------------------
à------------------------------------------------------------------------------------
4. We were in the countryside last summer.
à------------------------------------------------------------------------------------
à------------------------------------------------------------------------------------
5. Mrs. Robinson bought a poster.
à------------------------------------------------------------------------------------
à------------------------------------------------------------------------------------
6. Liz enjoyed her vacation in Da Lat last year.
à------------------------------------------------------------------------------------
à------------------------------------------------------------------------------------
7. Her aunt gave her a new skirt.
à------------------------------------------------------------------------------------
à------------------------------------------------------------------------------------
8. He was in our class two hours ago.
à------------------------------------------------------------------------------------
Week:	 Lesson 3 : EXERCISES (CONT') 
Date: 
I. Chọn từ thích hợp cho những câu dưới đây:
1. He _______ to school two days ago.
A. isn't	B. won't be	C. wasn't
2. What time _______ go to bed last night?
A. did you go	B. do you go	C. did you went
3. How ______ your vacation in Hoi An last week?
A. is	B. was	C. did
4. He ______ here yesterday.
A. doesn't come	B. didn't came	C. didn't come	
5. What ___ you ____ last Saturday?
A. do – do	B. did – did	C. did – do
6. We didn't _______ each other 10 years ago.
A. see	B. saw	C. seeing
7. ______ did you meet him? – Yesterday evening.
A. When	B. Where	C. What time
8. I had a good time ______ my parents in Hue.
A. for	B. with	C. at
9. I ________ seafood when I was in Nha Trang.
A. didn't ate	B. did ate	C. didn't eat
10. _______ you see that movie last night?
A. Were	B. Was	C. Did
II. Dùng động từ cho sẵn để hòan thành bài hội thọai:
 (start) (want) (not call) (have) (be) (finish) 
Jack: Ann, where (1) ________ you? You're late.
Ann: I know, I'm sorry.
Jack: What happened? The movie_________(2) an hour ago.
Ann: I (3) _______ a meeting at four and it (4) _________ at six.
Jack: But you (5) _______ to tell me.
Ann: T (6)___________ to call you but I didn't have a chance.
Jack: Well, don't worry. I'm happy now to see you.
Week:	 Lesson 4 : EXERCISES 
Date: 
I. Dùng từ cho sẵn hòan tất đọan văn dưới; sau đó trả lời các câu hỏi.
 cap returned was told postcards in visited wore
Nam had a wonderful holiday last summer. He (1)_______ in Ha Noi, the capital of Viet Nam. He stayed (2) ________ his uncle's house for three weeks. He (3)______ a lot of interesting places such as Ba Dinh Square, Le Nin Park, West Lake and so on. He bought many (4)________ for his friends and he also bought a (5)______ for himself. Nam (6)_________ the cap all day because he liked it a lot. When he (7) _______ to Ho Chi Minh City, he (8) ________ his friends a lot about his vacation.
Questions:
1. Where was Nam on his last summer vacation?
à ________________________________________________________
2. How long did he stay in Ha Noi?
à ________________________________________________________
3. Which places did he visit?
à ________________________________________________________
4. What did he buy?
à ________________________________________________________
5. Did he like the cap?
à ________________________________________________________
6. Did he tell his vacation to his family?
à ________________________________________________________
II. Hãy đặt câu hỏi cho từ/ cụm từ in nghiêng:
1. You saw her last night.
à _____________________________________
2. They left home at 6 yesterday.
à _____________________________________
3. Mrs. Robinson bought a poster.
à _____________________________________
4. She went to doctor because she was sick.
à _____________________________________
5. Her neighbor gave her a skirt.
à _____________________________________
Week:	 Lesson 5 : EXERCISES 
Date: 
I. Chia động từ trong ngoặc cho đúng thì: 
	Yesterday, David (go) _______ to his office at 6:30. He (buy) _______ a newspaper on the way to his office. He (not have) __________ breakfast at home. He (eat) breakfast in the canteen with his friend. He (work) ________ hard from 8 o'clock till 11 o'clock. He (be) _______ very busy. He (make)________ a few calls. He (have) ________ a problem with his computer and it (take) _______ him a long time to repair it. He (arrive) _______ home at 5:30 p.m. 
II. Chia động từ trong ngoặc,dùng thì quá khứ đơn: 
A: How did you enjoy your holiday in Da Lat?
B: Well, I (have) _______ a very good time with my family there.
A: What did you do there?
B: My parents (take) _______ me to a lot of parks and we (go) _______ to see some lakes. We also (visit) ______ an aquarium.
A: How were the people there?
B: They (be) ________ very nice.
A: Did you buy souvenirs?
B: Yes, I did. I (buy) ________ some postcards.
A: What kind of food is special in Da Lat?
B: I (eat) _______ many kinds of fruits. The food (be) _______ the same as ours.
A: Where did you stay?
B: We (sleep) ________ in a small guess house in the city. It was convenient.
A: That sounds good.
III. Điền mỗi chổ trống với 1 giới từ: 
1. I had a lot ______ fun with my family.
2. Liz bought some gifts ______ her friends.
3. Were you tired _____ the trip?
4. He moved _______ a new house.
5. My friend is interested _______ collecting stamps.
6. They returned _______ Ha Noi last week.
7. Nam talked _____ his classmates _______ his vacation.
8. What did you think ______ the place?
9. The Robinsons went _____ Nha Trang ______ their vacation.
10. She put the poster _____ the wall.
Week:	 Lesson 6 : EXERCISES 
Date: 
I. Chọn từ có dấu nhấn khác so các từ còn lại:
1. A. vacation	B. expensive	C. delicious	D. family
2. A. neighbor	B. different	C. material	D. cushion
3. A. noodle	B. sewing	C. decide	D. children
4. A. souvenir	B. maker	C. picture	D. remember
5. A. visit	B. beautiful	C. machine	D. poster	
II. Tìm ra 1 lỗi trong từ/ cụm từ gạch chân:
1. I buyed different gifts for my friends in America last years.
 A B C D
2. What about your family? What does your parents do?
 A B C D
3. They don't visit your teacher last night because it rained hard.
 A B C D
4. How did your family went to that place without a guide?
 A B C D
5. She told us of her visit to the Tri Nguyen Aquarium yesterday.
 A B C D
III. Chọn A, B, C hoặc D cho các câu dưới đây:
1. How _____ your vacation in Hoi An last week?
A. is	B. was	C. did	D. does
2. ______ you see the movie on TV last night?
A. Were	B. Was	C. Did	D. Do
3. Last month, I _______ to the English classes every day.
A. go	B. goes	C. went	D. am going
4. My neighbor made the dress ______ me.
A. to	B. for	C. at	D. from
5. Hoa's aunt often makes skirts for her. Hoa's aunt is a ________.
A. doctor	B. hairdresser	C. farmer	D. dressmaker
6. She ______ a lot of gifts from her friends last Sunday.
A. received	B. receive	C. is receiving	D. will receive
7. What _____ is this dress made of? –"Cotton".
A. thing	B. material	C. make	D. clothes
8. Yesterday _____ August the seventeenth.
A. is	B. were	C. are	D. was
9. I never learn how ______ a sewing machine.
A. use	B. to use	C. using	D. used
10. Don't forget to wash _____ before meals.
A. feet	B. teeth	C. eyes	D. hands

Tài liệu đính kèm:
Tu chon 7(6).doc