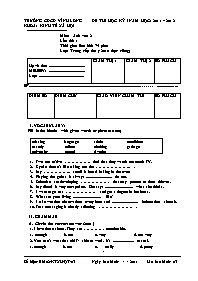 1. Two out of five . feel that they watch too much TV.
2. Kyoko doesn't like taking out the . .
3. My . smell is bread baking in the oven
4. Playing the guitar is always . for me.
5. Scientists are developing that may protect us from thieves.
6. My friend is very out-spoken. She says . what she thinks.
7. I want to go to a . and get a degree in business.
8. What are your living . like?
9. I take weather observations every hour and . information about it.
Text messaging is clearly affecting .
Bạn đang xem tài liệu "Đề thi học kỳ I năm học: 2011 – 2012 môn: Anh văn 2 lần thi: 1 thời gian làm bài: 75 phút", để tải tài liệu gốc về máy bạn click vào nút DOWNLOAD ở trên
TRƯỜNG CĐCĐ VĨNH LONG ĐỀ THI HỌC KỲ I NĂM HỌC: 2011 – 2012
KHOA: KINH TẾ XÃ HỘI 
Môn: Anh văn 2
Lần thi: 1
Thời gian làm bài: 75 phút
Lớp: Trung cấp thú y 2010 (học riêng)
Họ và tên: ....................................
MSHSSV: ....................................
Lớp: .............................................
GIÁM THỊ 1
GIÁM THỊ 2
SỐ PHÁCH
"..........................................................................................................................................
ĐIỂM SỐ 
ĐIỂM CHỮ
GIÁO VIÊN CHẤM THI
SỐ PHÁCH
I. VOCABULARY: 
 Fill in the blanks with given words or phrases(10m)
relaxing language adults conditions
exactly effects clothing garbage university record favorite
Two out of five . feel that they watch too much TV.
Kyoko doesn't like taking out the .. .
My .. smell is bread baking in the oven
Playing the guitar is always .......................... for me.
Scientists are developing  that may protect us from thieves.
My friend is very out-spoken. She says ............................ what she thinks.
I want to go to a . and get a degree in business.
What are your living ............................ like?
I take weather observations every hour and .......................... information about it.
Text messaging is clearly affecting . .
 II. GRAMMAR
Circle the correct answer (20m)
1. I love these shoes. They are  comfortable.
 a. enough b. too c. very d. not very
2. You can't wear that old T- shirt to work. It's ..................... casual.
a. enough b. too c. really d. pretty
3. I'm studying English ................. it is an international language.
a. enough b. too c. because d. although
4. I can find your passport, but I can't find ....................
a. me b. my c. myself d. mine
5. Is this ................... helmet?
a. you b. your c. yours d. b and c are correct.
6. Clara met .................. in the baked goods department.
a. someone b. anyone c. nothing d. nowhere
7. ..................... smoked or drank.
a. Nothing b. No one c. Nowhere d. No every
8. .................. likes Mary?
a. Who b. Who does c. Who do d. Who is
9. ..................... she phone yesterday?
a. Who b. Who did c. Who does d. Who do
10. My mother bought a dress ................... me.
a. to b. for c. of d. at
11. She sent a package ........................ us.
a. to b. for c. of d. at
12. I'm sure that we .................... find intelligent life on other planets.
a. will b. may c. might d. might not
13. Have you  visited the Art Museum?
a. yet b. since c. for d. ever
14. Where do you go .. a degree?
a. get b. to get c. getting d. gets 
15. Move ................... in the water.
a. careful b. carefully c. careless d. care
16. He plays football very ......................
a. good b. bad c. goodly d. well
17. Alan enjoys .................. the car.
a. wash b. to wash c. washing d. washes
18. Would you like ..................... out for dinner tonight?
a. go b. to go c. going d. b and c are correct
19. You are not .................. to eat or drink on the set.
a. need b. must c. allowed d. allow
20. The instructions for my VCR are ..................... . I can't understand them.
a. confusing b. confuse c. confused d. to confuse
B. Put in the correct verb tense (10m)
 1. He  (have) that motorcycle for fifteen years 
2. These flowers  (smell) wonderful
I .(think) he needs more practice.
4. He .( not listen) to the radio at the moment.
5. Listen ! Sam (play) ......................... the piano.
6. I... (not write) to her for five months.
7. We.. (see) this film already
Louise. (seem) happy.
9. they ( build) ............................. a new hotel in the city center now?
10.  you ever.. (be) to Hanoi?
 C. Make a complete sentence from the given words (10m)
1. I / not mind/ do / dishes
...................................................................................................................................
2. Mary / went / shopping / get / new / clothes.
...................................................................................................................................
 3. He / not talk / me / for two years.
 ...................................................................................................................................avetak 
 4. It / hard / believe / story.
 ...................................................................................................................................
 5. Swimming / good / your health.
 ...................................................................................................................................
 2 years. 
III. READING (10m)
Read the passage carefully and then wirte T (True) or F ( False) on the line.
Oranges
Everybody loves oranges. They are sweet and juicy. They are in sections so it is easy to eat them, Some oranges do not have any seeds. Some have a thick skin and some have a thin skin.
The orange tree is beautiful. It has a lot of shiny green leaves. The small white flowers smell very sweet. An orange tree has flowers and fruit at the same time.
There were orange trees twenty million years ago. The oranges were very small , not like the ones today. The orange trees probably came from China. Many different kinds of wild oranges grow there today. Chinese started to raise orange trees around 2400 B.C. Chinese art has lovely old pictures of oranges and orange trees.
Farmers in other parts of Asia and the Middle East learned to raise oranges from the Chinese. Then they taught Europeans. The Spanish planted orange trees in the New World (North and South America). They took them to Florida first. Oranges are a very important crop in Florida today.
"Orange" is both a fruit and a color. The color of oranges is so beautiful that in English we use the name of the fruit for the color.
 Oranges are shiny and red.
 Some oranges do not have flowers.
 The orange trees have some sections.
 Orange leaves are sweet.
 There were big oranges twenty million years ago.
 There are many wild oranges in China today.
 There aren't any old pictures of oranges in China.
 Europeans learned to plant oranges from farmers in the Middle East and Asia.
 Oranges are a very important crop in Africa today.
 Orange is both a color and a fruit.
IV. WRITING (10m)
Answer the following questions about YOUR BEST FRIEND.
Who is your best friend?
Where does he / she live?
What is he / she like? 
Does he / she help you when you are in trouble?
Is friendship important to you?
 THE END
ANSWER KEY ( AV 2-TCCNTY 10)
I. Vocabulary: 10m
1. adults
2. garbage
3. favorite
4. relaxing
5. clothing
6. exactly
7. university
8. conditions
9. record
10. language.
II. Grammar
A. 20m
1. c
2. b
3. c
4. d
5. b
6. a
7. b
8. a
9. b
10. b
11. a
12. a
13. d
14. b
15. b
16. d
17. c
18. b
19. c
20. a
B. 10m
1. has had
2. smell
3. think
4. isn't listening
5. is playing
6. haven't written
7. have seen
8. seems
9. Are- building
10. Have – been
C. 10m
1. I don't mind doing dishes.
2. Mary went shopping to get new clothes.
3. He hasn't talked to me for two years.
4. It's hard to believe the story.
5. Swimming is good for your health.
III. Reading :10m
1. F
2. F
3. F
4. F
5. F
6. T
7. F
8. T
9. F
10. T
IV. Writing: 10m
 is my best friend.
S/he lives in ..
S/he is ..
Yes, s/he does. / No. s/he doesn't
Yes, it is. / No, it isn't.
TOTAL MARKS: 70:7=10m