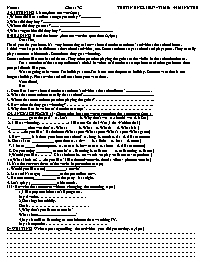 B/READING: Read the letter ,then answer the questions(2,5pts)
 Dear Tim,
Thank you for you letter. It's very interesting to know about American students' activities after school hours.
I think we take part in different after-school activities, too. Some students stay at school and play sports. They usually play soccer or table tennis. Sometimes they go swimming.
Some students like music and drama. They often practice playing the guitar or the violin in the school orchestra.
 I'm a member of the stamp collector's club. I have lots of American stamps because I often get letters from pen pal friends like you.
 We are going to have our Tet holidays soon. Tet is our most important holiday. Summer vacation is our longest holiday. Please write and tell me about your vacations.
 Your friend,
Bạn đang xem tài liệu "Đề kiểm tra lần 4 môn Tiếng Anh Lớp 7", để tải tài liệu gốc về máy bạn click vào nút DOWNLOAD ở trên
Name : Class : 7C TEST IN ENGLISH 7 –TIME : 45 MINUTES
A/LISTENING: Listen ,then answer (2pts)
1,W here did Hoa and her aunt go yesterday ?....................
2,What did they buy ?.....................................
3,Where did they go next ?........ ........................................
4,What vegetables did they buy ?....................................................
B/READING: Read the letter ,then answer the questions(2,5pts)
	Dear Tim,
Thank you for you letter. It's very interesting to know about American students' activities after school hours.
I think we take part in different after-school activities, too. Some students stay at school and play sports. They usually play soccer or table tennis. Sometimes they go swimming.
Some students like music and drama. They often practice playing the guitar or the violin in the school orchestra.
	I'm a member of the stamp collector's club. I have lots of American stamps because I often get letters from pen pal friends like you.
	We are going to have our Tet holidays soon. Tet is our most important holiday. Summer vacation is our longest holiday. Please write and tell me about your vacations.
	Your friend,
	Hoa
1. Does Hoa know about American students' activities after school hours?........................ .
2. What do some students usually do at school?.......................................................................
3. Where do some students practice playing the guitar? ..
4. How often do they go swimming? ..
5. Why does Hoa have lots of American stamps? .
C/LANGUAGE FOCUS : I/ Choose the best answer to complete the sentences (2pts ) 
 1. ________ go to the park? (a. Let's	 b. Why don't we c .should we d. b &c )
 2. I like swimming. ( I like too /So do I /Yes ,I do /Neither do I ) 
3. ________ nice weather! (a. What a	b. What c. What is d. What is it )
 4..do you like ? Badminton (What sport /What sports /What's sport /What game ) 
 5. How _____ is it from your house to school? (a. long b. much c. far d. All are correct
 6. She asks us ___________ questions (a. a few	 b. a little c. less	d. more )
 7. I learn _____ the computer. (a. to use b. how to use c. about d. All are correct)
 8. Do you enjoy ________ to music? (a. listening b. to listen	c. to listening	c. listen )
 9,Would you like .? Classical music. (to watch /to play /to listen to / to perform )
 10,What kinds ofdo you like ?I like detective movie. (books /films/ pictures /music )
II. Use the correct form of the verbs in parentheses (1pt)
1. Would you like (see) __________a movie?
2. Lan and Nam (go) _________to the post office now.
3. He (not come)___________ to the party last night.
4. Let's (play) _____________table tennis.
III/ Rewrite the sentences without changing the meaning (1pts)
1,I like pop music best of all programs.
My favorite
2,She sings beautifully.
She is
3,Why don't you listen to music ?
What about......................................?
4,My sister likes listening to music better than watching TV.
My sister prefers.
D/ WRITING: Write a passage telling the activities you did yesterday. (1,5 pts)