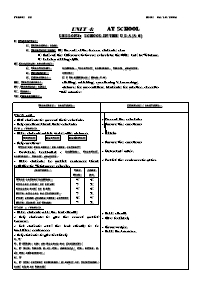 I. Objectives:
 1. Education aim:
 2. Teaching aim: By the end of the lesson, students can:
  find out the difference between schools in the USA and in Vietnam.
  develop reading skill.
II. Language contents:
 1. Vocabulary: uniform, baseball, cafeteria, break, popular
 2. Grammar: (none)
 3. Structures: S + be different from + O
III. Techniques: eliciting, matching, questioning & answering.
IV. Teaching aids: pictures for presentation, handouts for practice, cassette.
V. Time: 45 minutes
VI. Procedures:
Bạn đang xem tài liệu "Giáo án môn Tiếng Anh Lớp 7 - Period 22, Unit 4: At school - Lesson 3: School in the U.S.A (A 6)", để tải tài liệu gốc về máy bạn click vào nút DOWNLOAD ở trên
Period: 22	Date: 04/10/2004
UNIT 4: 	AT SCHOOL
LESSON 3: SCHOOL IN THE U.S.A (A 6)
I. Objectives:
	1. Education aim:
	2. Teaching aim: By the end of the lesson, students can:
	˜ find out the difference between schools in the USA and in Vietnam.
	˜ develop reading skill.
II. Language contents:
	1. Vocabulary:	uniform, baseball, cafeteria, break, popular
	2. Grammar:	(none) 
	3. Structures:	S + be different from + O 
III. Techniques:	eliciting, matching, questioning & answering.
IV. Teaching aids:	pictures for presentation, handouts for practice, cassette.
V. Time:	45 minutes
VI. Procedures:
Teacher's activities
Students' activities
Warm – up.
- Call students to present their schedule.
- Ask questions about their schedule.
Pre – reading. 
- Have students match words with pictures.
 Football Baseball Basketball 
- Ask questions 
 What do you often do after school?
- Pre-teach vocabulary : uniform, baseball, cafeteria, break, popular
- Have students do predict sentences about activities in Vietnamese schools.
Activities 
Viet Nam
America
Wear school uniform
Classes start at 12.45
Classes end at 5.50
Have classes on Saturday 
Play some games after school
Have lunch at home
V
V
V
V
X
V 
X
X
X
X
V
X 
While – reading.
- Have students read the text silently
- Ask students to give the correct predict answers 
- Let students read the text silently to do true/false sentences.
- Ask students to give feedback 
a. T
b. F (there are no lessons on Saturday)
c. F (one break is in the morning, the other is in the afternoon)
d. T
e. F (the school cafeteria is open at lunchtime and also at break)
f. F (basket is one of the most popular after-school activities)
- Have students notice the structure.
 Schools in the USA are a little different from schools in Viet Nam.
ð To be different from ≠ To be the same.
- Have students answer the questions. 
1. Are the schools in the USA and schools in Viet Nam the same?
2. What time do classes start and finish?
3. How many breaks do they have?
4. How long is the break?
5. Do students have lunch at school?
6. What do students often do after school?
-Ask students to give feedback 
Post – reading. 
- Have students find the differences between Schools in Viet Nam and schools in the USA.
- Call one / two students to write the result on the board.
- Present the schedule.
- Answer the questions. 
- Match.
- Answer the questions. 
- Listen and write. 
- Predict the sentences in pairs.
- Read silently 
- Give feedback 
- Group works. 
- Read the answers.
- Listen and write. 
- Answer the questions. 
- Give feedback 
- Group works. 
- Write on the board.
Homework
1. Reread the text.
2. write a short paragraph about your school day.
3. Exercises 2 , 3 , 4 /p.22-23 (workbook) 
4. Prepare vocabulary: library, rack, reference book, reader, novel, dictionary, at the back, follow me.
Remarks
------------------------------------------------------------------------------------------------------------------------------------------------------------------------------------------------------------------------------------------------------------------------------------------------------------------------------------------------------------------------------------------------------------------------------------------------------------------------------------------------------------------------------------------------------------------------------------------------------------------------------------------------------------------------------------------------------------------------------------------------------------------------------------------------------------------
_________________________________________b"&"a_________________________________________