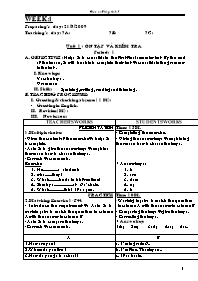 Unit 1 : ÔN TẬP VÀ KIỂM TRA
Period: 1
A. OBJECTIVES : Helps Ss to consolidate the first final semester test By the end of the lesson, Ss will be able to complete their test & consolidate the grammar in the test .
I. Knowlege :
 Vocabulary : .
 Grammar:
II. Skills: Speaking, writing, reading and listening.
B. TEACHING PROCEDURE :
I. Greeting & checking absence ( 1 M ):
- Greeting in English.
II. Revision (M ) :
week: 1
Preparing's day: 21/8/2009
Teaching's day: 7A:	7B:	7C:
Unit 1 : ôn tập và kiểm tra
Period: 1
OBJECTIVES : Helps Ss to consolidate the first final semester test By the end of the lesson, Ss will be able to complete their test & consolidate the grammar in the test .
I. Knowlege :
 Vocabulary : .
 Grammar:
II. Skills:	Speaking, writing, reading and listening.
B. TEACHING PROCEDURE :
I. Greeting & checking absence ( 1 M ):
- Greeting in English.
II. Revision (M ) : 
New lesson :
TEACHER'S WORKS
STUDENTS' WORKS
PRESENTATION
1. Multiple choice:
- Gives the content of the exercise & helps Ss to complete.
- Asks Ss to give the answer keys & explains the reason how to choose the keys.
- Corrects & comments.
Exercise 
He...............a student.
who.......they?
What...........he do in his free time?
She stays...................at 6 o'clock.
What................this? It's a pen.
Time: 15 M.
- Completing the exercise.
- Giving the answer keys & explaining 
the reason how to choose the keys.
* Answer keys:
is
are
does
up
is
PRACTICE
2. Matching: Exercise 1-P44.
- Introduces the requirement & Asks Ss to work in pairs to match the questions in column A with the answer in column B
- Asks Ss to compare the keys.
- Corrects & comments.
Time 10 M .
-Working in pairs to match the questions
 in column A with the answer in column B
- Comparing the keys & give the keys.
- Correcting the keys.
* Answer key:
1:b; 2: e; 3: d; 4: a; 5: c.
A
B
1. How are you ?
a. I'm in grade 6..
2. Where do you live ?
b. I'm fine. Thank you..
3. How do you go to school ?
c. It's a book.
4. Which grade are you in ? 
d. By bicycle. 
5. What is that ?
e. In the city.
PRODUCTION
1. Write the answer in the words:
-Introduces the requirement & the exercise & Asks Ss to work in pairs to write the write the answer in the words:
- Asks Ss to compare the keys.
- Asks Ss to give the keys 
- Corrects & comments.
Time: (15 Ms)
-Working in pairs to write the write the answer in the words:
- Comparing the keys & Giving the keys
- Correcting the keys & the mistakes.
8 + 9 = ( Seventeen )
20 – 13 = ( Seven )
33 + 15 = ( Forty-eight )
54 : 3 = ( Eighteen )
7 x 5 = ( Thirty-five )
2. Write the complete sentences:
-Introduces the requirement & the exercise & Asks Ss to work in pairs to do write the complete sentences.
- Asks Ss to compare the keys.
- Asks Ss to give the keys 
- Corrects & comments.
* Cues:
 1. There / a river / near / my school..
My father / engineer.
3. What / you / do / after school.
4. We / waiting / for / a train..
5.There / rice paddy / in front of / my house.
-Working in pairs to do write the 
complete sentences.
- Comparing the keys & Giving the keys
- Correcting the keys & the mistakes.
* Answer keys:
1. There is a river near my school..
My father is an engineer.
3. What do you do after school.
4. We are waiting for a train..
5.There is a rice paddy in front of 
my house..
IV. CONSOLIDATION ( Time: 2ms ):
 - Asks Ss to summarize the lesson.
 V.Homework:(2ms)
 - Study the grammar & the modal sentence re-do the test at home.
 - Prepare vocabulary & the pictures on page 96.
Preparing's day: 22/8/2009
Teaching's day: 7A:	7B:	7C:
Unit 1 : back to school
Lesson 1 : Friends P.10-12
Period: 2
A . Objectives .
-By the end of this lesson, students will be able to make greeting and introduction with their friends.
I. Knowledge .
Revision of simple present with : 
"Nice to meet you" 
"How is everything?" 
"just fine" / "not bad"/ "Pretty good"
II. Skills
- Speaking and reading skill.
B. Proceduce.
I.Greeting
- Check attendence.
 II- Revision.(5ms)
"slap the boarb": ( Ss listen and slap the suitable response)
Put the new words all over the black-board.
Call two students or 2 teams of Ss to the front of the class. Ask them to stand at an equal distance from the black-board.
Teacher calls out of the new words (in VietNamese) in aloud voice, the two Ss must run forward and slap the word on the black-board. The one who first slaps the correct word is the winner. If the Ss play in team,the winning team gets a mark. Then ask two more Ss to come forward,etc...
 Good bye yes,I am
Class 7A Very well,thanks My name's Hoa
a.What's your name?
b.How are you today ?
c.What class are you in ?
d.goodbye
e.Are you a new student?
III- New lesson .
Teacher's activities
Students'activities
1. Practice.(20ms)
a.Matching
-Put the poster on the board and ask Ss to match the words or phrases in column A to column B
. A B
 a.Pretty good 1.Không tốt lắm
 b.How is everything 2.Tôi cũng vậy
 c.Nice to see you 3.Khá tốt
 d.So am I/ me, too 4.Mọi việc như thế nào
 e.Just fine 5.Rất vui khi gặp bạn
 f.Not bad 6.Bìmh thường thôi
-Ask Ss to go to the board and draw the line to correct the words.
b.Gap- filling " A4 a)-b) p.12-13"
-Ask Ss to use the word given to complete the dialogue(a) P.12 and dialogue (b) P.13
-Provide some words so that Ss can use them to fill in the gap.
How are you today?
Just fine
So am I
How are you?
Not bad
Me,too
How is everything?
Preey good
How about you?
OK
c.Picture cue drill
- Introduces the example exchange & Helps Ss to practice.
- Reads the first model for example & asks Ss to repeat in chorus & in individual.
- Asks Ss to make sentences for the next.
- Practices with Ss & checks S's practicing in groups & in pairs .
-Corrects S's pronunciation & comments
-Prepare 4 picture so that Ss can drill easily.
 - A5 p.13 
 (Ss use the cues above)
2.Production (17ms)
 -"Mapped dialogue"
-Set a scene
-Put the mapped dialogue chart on the board
-Elicit the exchanges from Ss
-Have some pairs practice each exchange before going on to another exchange.
-After finishing the dialogue,ask a good pair to demmonstrate the whole dialogue.
*Open pair:
-Ask some pairs to demonstrate the dialogue.
*Closed pairs:
-Ask Ss to work in pairs, replacing the information using the tables.
-Monitor and correct.
T asks Ss to use the new greetings expressions from matching
 Ba	Nam
....morning...	 ...morning...
 Nice...again.
...,too. How...?	..., ...thanks...about...?
...thank you.
goodbye. See...	See
-Ss match the words or phrases in column A to column B
-Ss work on their own first then compare with their partners.
-Ss listen and check.
-Ss listen and write the letters of the dialogue in the order they hear.
*Answer key:
(a)Mr.Tan: ......... How are you?
Miss Lien : Pretty good,.......How about you,...?
Mr.Tan: Not bad,..........
Miss Lien: Me,too.
(b)Nam: ......How is everything?
Nga: Ok,....How are you today,.....?
Nam:Just fine,....
Nga:........
Nam:......So am I. 
-Ss practice well
Ss repeat in chorus & in individual.
Ss make sentences for the next
Ss checks & S's practicing in groups & in pairs .
-Ss use the new greeting expressions from the matching.
-Ss practice well.
-Some pairs practice each exchange before going on to another exchange.
-After finishing the dialogue, some a good pair to demmonstrate the whole dialogue.
-Take notes.
 IV.Consolidation(1m)
-T calls some pairs to practice the dialogue.
- Ask Ss to give the question & the answer .
 - Asks Ss to summarise the general idea of the lesson.
 V.Homework.(2ms)
 - Study the dialogue by heart.
-Doing exercise :1,2 P.3-4 (work book)
-Preparing :Unit1:A2
THE END
Preparing's day: 23/8/2009 
Teaching's day: 7A:	7B:	7C:
Unit 1 : back to school
Lesson 2 : Friends P.11
Period: 3
A . Objectives .
-By the end of this lesson, students will be able to understand the detail and revising simple present, comparisions, a lot of/many.
I. Knowledge .
-Revision of simple present with : comparisions, a lot of /many.
II. Skills
-Reading, speaking skills
B. Proceduce.
I.Greeting 
	II- Revision.(5ms)
-"Wordsquare " 
-Put the wordsquare poster on the board and inform the topic.
-Divide the class into 2 teams.
Ask ss to find 11 hidden words and write them on the peice of paper.
Tell Ss the team to find out the most right words will get 2 points.
 	Aunt,friend
	school,big,new,old,uncle
	parents.
	student,happy,live
S
C
H
O
O
L
D
T 
T
B
I
G
H
N
U
N
C
L
E
A
E
D
U
J
I
T
P
I
E
A
S
V
N
P
R
N
E
W
E
U
Y
F
S
T
N
E
R
A
P
III- New lesson .
Teacher's activities
Students'activities
1.Pre-reading.(7ms)
a.Pre-teach
T elicits to teach vocabulary.
-different khác nhau (Example)
-unhappy không hạnh phúc (antonym)
-(to) miss : nhớ (Explain)
- Introduces the words by explaining the meaning, using the situation.
- Reads the words for the modal (3 times ). Then helps SS to repeat ( 2 times ).
- Checks S's reading in individual & corrects the mistakes.
- Writes the words on the Bb & checks the meaning & the prounciation.
- Corrects & asks Ss to copy the words.
b.Checking vocab.
R.O.R
c.T/F statement prediction
-Hang the poster of T/F statements on the board and ask Ss to work in pairs and guess which statements are true and which are false.
a)Hoa is from Hue
b)She lives with her parents in Ha Noi
c)She has a lot of friends in Ha Noi
d)She misses her friends in Hue
e)She is happy now.
-Give feedback.
2.While-reading(20ms)
a.Ss read and correct their predictons
-Ask Ss to read the text on P.11 and check their prediction.
-Have Ss correct false statements.
Guess
Answer
Correction
a
T
b
F
She lives with her uncle and aunt in HaNoi
c
F
Sh has a lot of friends in Hue
d
T
e
F
She is unhappy now.
b.Comprehension questions
-Give Ss some questions in (A2 P.11 a)-e))
 and ask them to work in pairs to answer them
 -T gives a game "Hangman" to ask and answer the questions.
*Answer key:
a)She is from hue.
b)She is staying with her uncle and aunt.
c)No,She doesn't have any friends in Ha Noi.
d)Her new school is bigger than her old school.
e)She is unhappy because she misses her parents and her friends.
-Let some pairs of Ss to ask and answer the questions (Open pairs)
-Let all Ss work in pairs (closed pairs) 
3. Post-reading(10ms)
- "Transformation writing" (from the text A2 P.11)
-For weak Ss: change"Hoa" to "I"
-For strong Ss: change the information and change" Hoa" to "I"
-T controls and corrects.
- Listening to the words. 
- Repeating the words in chorus & in individual. Correcting the mistakes.
- Giving the meaning & the pronunciation.
- Copying the words.
-Ss close their book and predict the sentences
-Ss open their book and read the text then correct their answers
-Ss play well ( whole class)
-Ss work well.
- ... tices with Ss & checks S's practicing in groups & in pairs .
- Corrects S's pronunciation & comments.
Cues: 
-go to the movie /☺
-go shopping /☺
-listen to music /☻
- go out for dinner /☺
-play video games /☻
3.PRODUCTION(8ms)
- Asks Ss the questions & requires them to answer.
- Corrects S's answers & comments.
* Questions:
a. What time do your classes start ?
b. What time do they finish ?
c. How many lessons do you have on Mondays ?
d. How many hours do you do your homework ?
e. When will you have a vacation ?
f. How long does your vacation last ?
- Playing the game in 2 groups.
- Commenting the game.
* The words for the game: 
 1. _ _ _ _ _ _ _ _ (Television).
 2. _ _ _ _ _ (chair).
 3. _ _ _ _ _ _ _ (Picture).
 4. _ _ _ _ _ _ (Stove).
 5. _ _ _ _ _ (Table)
- Giving the form & use of the future simple tense.
- Working in pairs to write things will do or will not do tomorrow.
- Comparing the keys & give the keys by practicing in pairs.
- Correcting the keys.
I will see a movie but he won't watch TV. He will write to his grandmother but he won't meet Minh. 
- Repeating in chorus & in individual.
- Making sentences for the next cues.
- Practicing in groups & in pairs .
- Correcting the pronunciation.
* Example exchange:
S1: Would you like to go for a walk ?
S2: Yes, I'd love to./ I'm sorry. I can't.
- Answering the questions.
-Correcting the pronunciation. 
a. My classes start at 7.00.
b. They finish at 11.15.
c. I have five lessons on Monday.
d. It takes two hour for me to do my home work .
e. I will have a vacation in June.
f. It will last in three months.
IV. Consolidation.(1m)
-T calls some Ss to give the main ideas in this lesson.
V.Homework.(1m)
-Doing again all exercises in your notebook.
-Preparing: review 2
THE END
Preparing's day: 25/4/2009
Teaching's day: 7A: 7B:	 7C:	7D:	7E:
REVIEW
Period: 103 
A . Objectives .
-By the end of this lesson, students will be able to consolidate the knowledge 
I.Knowledge.
 -The present simple.
II. Skill
-Reading and speaking drill.
B. Proceduce.
I.Greeting
II- Revision.
 III. New lesson
Teacher's activities
Students'activities
Present simple tense.
a. With (to) be:(10ms)
 -T asks ss to remember the way to use the structure,use.
-T calls some ss to go to the board and write.
 -T controls and corrects with ss.
-T asks Ss to give the structures and the way to use them.
Structure:
 Khẳng định: S + (to) be +(a/an) + O.
Phủ định: S + (to) be-not +(a/an) + O.
Nghi vấn:(to) be + S +a/an + O ?.
 Trả lời: Yes, S + (to)be
 No, S + (to) be-not
-T asks ss to give more example
.Example:
1.They are students.
2.He isnot an engineer.
3. Are they students ?
 Yes, they are.
 No, they aren't
T controls and corrects.
Notes:
I + am
She,He,It + is
You, They, We + are
2.Exercise: (10ms)
. Put the verbs in the correct answer: 
- Introduces the way to practice & devides the class into 2 groups to practice.
- Helps Ss to practice.
-Calls ss to go to the board write the answer.
- Corrects & comments
1. She...................(to)be not ) a student.
2...............she a good student ? ((to) be)
3. I...................a farmer. ((to)be)
4. They.............nurses. ((to)be)
5. Mr.Nam andMrs. Nga..................... workers. ((to)be-not)
-Ss remember and answer the question of teacher.
-Ss give examples.
+ He is a teacher.
+ Nam isnot a student.
+ Is she tall?
 Yes, she is/ No, she isn't.
...etc
- Ss take notes.
- Ss copy the notes and learn by heart.
-Ss work individual then share with your partners.
Expected:
1.She isn't a student.
2.Is she a good student?
3. I'm a farmer.
4.They are nurses.
5.Mr.Nam and Mrs.Nga aren't workers.
-Ss go to the board write the answer
- Correcting the answer keys.
Present simple tense.(10ms)
a. With regular verbs.
 -T asks ss to remember the way to use the structure,use.
-T calls some ss to go to the board and write.
 -T controls and corrects with ss.
-T asks Ss to give the structures and the way to use them.
Structure:
 Khẳng định: S + V(s/es) + O.
Phủ định: S + don't/doesn't + V(inf) + O.
Nghi vấn: Do/ Does + S + V(inf) + O ?.
 Trả lời: Yes, S + do/does
 No, S + don't/ doesn't.
-T asks ss to give more example
b.Example:
1.They play chess.
2.He works in a hospital.
3. Does nam like oranges?
 Yes, he does
 No, he doesn't.
T controls and corrects.
Notes:
She,He,It + V(s/es)
You, They, We + V(inf)
2.Exercise: (10ms)
a.Put the following verbs in simple presnt.
-T aks ss to work in groups of 4 to do the exercises.
-T asks ss the way to do.
- T calls ss to go to the board write the answer.
-T comment and correct.
1. The swimming bath..................(open) at 9:00 and ..............(close) at 18:30 every day.
2.I have a car but I.................(not-use) it very often.
3.I.......................(play) the piano, but I...................(not-play) very well.
4.I don't understand the word"decide". What.........................("decide"/ mean)?
5.I ............................(work) in a bank. Nam.........................(work) in an office.
-Ss remember and answer the question of teacher.
-Ss give examples.
+ He teaches in a school..
+ Nam doesn't play volleyball..
+ Do you want to learn English?
 Yes, I do/ No,I don't.
...etc
- Ss take notes.
- Ss copy the notes and learn by heart.
Practicing in groups.
-Expected:
1. opens........closes
2.don't use
3.play.........don't play.
4.does the "decide" mean?
5.work..........doesn't work......
-Ss go to the board write the answer.
- Correcting the answer keys.
IV. Consolidation.(3ms)
-T calls some Ss to read again the model sentences and th cocept check.
V.Homework.(2ms)
-Preparing the simple present tense .
-Preparing the present progressive tense .
THE END
Preparing's day: 25/4/2009
Teaching's day: 7A: 7B:	 7C:	7D:	7E:
REVIEW
Period: 104 
A . Objectives .
-By the end of this lesson, students will be able to remind all knowledge from unit 1 to unit 8. 
I.Knowledge.
 -Preposition of place; Must & Can; Question words.
 -Yes / No question with Present progressive
 -The present progressive tense
 -Adjectives and adverbs
-Prepositions. 
II. Skill
 - Reading and speaking drill.
B. Proceduce.
I.Greeting 	
II- Revision
III.New lesson.
Teacher's activities
Students'activities
I.PRESENTATION(10ms)
1. Yes/ No question of Present progressive
- Introduces the dialogue & helps Ss to practice in chorus.
- Asks Ss to practice the dialogue in groups & in pairs.
- Check S's practicing the dialogue in groups & in pairs.
- Corrects the pronunciation & comments.
 TV ?
x
 radio ?
x
reading ?
x
What .?
video games.
2. Preposition of place:
* Listen & Draw:
- Reads the text & Asks Ss to listen to the text & draw the position of things that they hear. 
- Reads the text again & Asks Ss to compare & give the picture they drew.
- Corrects & comments.
* "There is a house. Behind the house there are mountains. To the left of the house there is a tree. In front of the house there is a river. To the right of the house a man is riding a bike."
* Mapped dialogue:
- Practicing the dialogue in chorus; in groups & in pairs.
- Corrects the pronunciation & comments.
* * Example exchanges:
S1: Are you watching TV ?.
S2: No, I'm not.
S1: Are you listening to the radio ?
S2: No, I'm not.
S1: Are you reading ?.
S2: No, I'm not.
S1: What are you doing ?
S2: I'm playing video games.
-Working in pairs to look at the picture & use the Preposition of place in the box to complete the paragraph. 
- Comparing the keys & give the keys.
II.PRACTICE(10ms)
2. Question words: - Grid.
- Introduces the topic & asks Ss to practice in groups, using the past simple to talk about their vacation.
- Asks Ss to give the answers.
- Corrects S's pronunciation & comments.
* Example exchanges:
S1: What is his name ?.
S2: John.
S1: How old is he ?
S2: He is thirty-five..
S1: What does he do ?.
S2: Hoe is a teacher.
- Practicing in groups, using the past simple to talk about their vacation.
- Giving the answers.
- Correcting the pronunciation.
S1: Where does he live ?.
S2: In Hue.
S1: What time does he get up ?.
S2: Five-thirty..
S1: What time does he come home ?.
S2: One o'clock
John
35
Teacher
Hue
05.30
13.00
Hoa
21
Farmer
Ha Tinh
04.00
18.00
Binh
12
student
HCMC
06.00
15.30
III.PRODUCTION(10ms)
3. Must & Can:
 Noughts & Crosses:
- Introduces the example exchange & helps Ss to work in groups to answer the questions about the road signs with Must & Can.
- Asks Ss to compare the keys.
- Corrects & comments the game.
* Example:
 S1: What does this sign mean ?
 S2: You [ must slow down ].
 [ can park here ].
-Working in groups to answer the questions about the road signs with Must & Can.
- Comparing the keys.
- Correcting the keys.
Teacher's activities
Students'activities
The present progressive tense.(5ms)
T asks Ss to remind.
*Answer key.
S + (to)be + V-ing + O.
S + (to)be-not + V-ing + O.
(To)Be + S + V-ing + O ?
Ex:
S1:What is he doing?
S2: He is playing football.
-"Word cue drill"
a)Lan/walk to school
b)They/go to school by bus.
c)We/play computer game.
d)She/travel to work.
e)He/sing a song.
Ex:
S1: What is Lan doing?
S2: She is walking to school.
.....etc
Adjectives.(5ms)
T asks Ss to show the way to use & structure (short adjectives and long adjectives).
Ex:
1)Lan is taller than Hoa.
Mai is the tallest.
2)This pen is more expensive than that pen.
The dress "C" is the most expensive.
-"picture drill" (T asks Ss depend on ex 5 P.40 in text book).
Ex:
-A toy is cheaper than a ball.
-A ball is cheaper than a car.
-A toy is the cheapest.
.....etc.
Adverbs of frequency.(3ms)
-Exercise 5 P.71 (text book)
 Ex:
Ba never goes to the cafeteria at lunch time.
.........etc
T controls and corrects.
Prepositions(5ms)
-Exercise4 P.39 (text book)
-Ss renind and show the way to give the use and the structure.
-Take notes.
-Ss practice well.
-Ss show the way to use & structure (short adjectives and long adjectives).
-Ss practice well.
-Ss renind and show the way to give the use and the structure.
-Ss practice well.
-Ss renind and show the way to give the use and the structure.
-Ss practice well.
IV. Consolidation.(3ms)
-T calls some Ss to give the main ideas in this lesson.
V.Homework.(2ms)
 - Study the grammar & the modal sentence & do the exercises at home. 
-Preparing: written test (The second term examination)
THE END
The second term examination
Period: 105