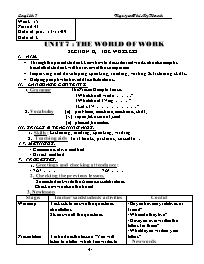 UNIT 7 : THE WORLD OF WORK
SECTION B1 : THE WORKERS
I. AIM:
• Through the period students know how to describe real works about some jobs beside that students will be reviewed the comparison
• Improving and developing speaking, reading, writing & listening skills.
• Helping people who have difficult situations.
II. LANGUAGE CONTENTS:
 1. Grammar: The Present Simple Tense.
 +What should we do .?
 +What about +Ving ?
 +Let's+ V ?
 2. Vocabulary: (n) : part-time , machine , mechanic , shift ,
(v): repair, take care of, send
(a) : pleased, homeless
Week: 15
Period:43
Date of pre. :13/11/09
Date of t. :
UNIT 7 : THE WORLD OF WORK
SECTION B1 : THE WORKERS
I. AIM:
Through the period students know how to describe real works about some jobs beside that students will be reviewed the comparison
Improving and developing speaking, reading, writing & listening skills.
Helping people who have difficult situations.
II. LANGUAGE CONTENTS:
 1. Grammar: The Present Simple Tense.
 +What should we do .?
 +What about +Ving ?
 +Let's+ V?
 2. Vocabulary: (n) : part-time , machine , mechanic , shift ,
(v): repair, take care of, send
(a) : pleased, homeless
III. SKILLS & TEACHING AIDS:
 1. Skills: Listening, reading, speaking, writing
 2. Teaching aids: Text books, pictures, cassette 
 IV. METHODS:
 - Communicative method
 - Direct method
V. PROCESSES:
 1. Greetings and checking attendance:
 - 7A1 	7A2
 2. Checking the previous lesson. 
Some students write the America's celebrations
	 Check new words on the board
 3. New lesson 	
Stages
Teacher's and students' activities
Content
Warm up
Presentation
COM. Check
Practice 
Summary
T asks sts to answer the questions about letters
Sts answer all the questions 
T introduces the lesson: "You will listen to a letter which Tim writes to Hoa. You scan it and answer these questions
-How many people does Tim's family have?
-Who does Tim write about in the letter?
Sts listen and answer the questions
T explains new words and expression
Sts Listen and repeat new words
T draws circles and writes new words in each circles
T asks sts to repeat the words chorally, then rub out word by word but leave the circles
Go on until the circles are empty. Get students to go to the board and write the words in the correct circles
T asks sts to listen to Tim's letter once
T asks sts to read the letter individually
Sts listen and read the letter individually
T asks sts to read the questions and find the answers from the letter
Sts read and find the answers
T asks some students give answers in class
Sts answer the questions as suggested
T corrects
T consolidates the structures of comparison
Sts observe the structures and draw a grammatical rule
-Do you have any relatives or friend?
-Where do they live?
-Have you ever written the letters for them?
-What do you write in your letters?
New words:
pleased ( a ): vui veû, haøi loøng
send ( v ): göûi
take care of ( v ): chaêm soùc
part-time ( n ): baùn thôøi gian
homeless ( a ): khoâng nhaø	
mechanic ( n ): thôï maùy
 repair ( v ): söûa chöõa
 machine ( n ): maùy moùc
 shift ( n ): ca laøm vieäc
Grammar:
S + V / V – s / es + O
S + modal verbs + V
* Answer
a. Mrs. John works at home. But three morning a week she works past time at a local supermarket
b. She cooks lunch for homeless people nice a week
c. Mr. John is a mechanic. He prepares machines in a factory
d . He works about 40 hours a week
e. The John family always goes to Florida on vacation. They have a great time there
VI HOME WORK AND PREPARATION:
 - Learn new words and structures by heart.
 - Prepare part B2,3,4
VII. EXPERIENCES:
_______________________________
Week: 15
Period:44
Date of pre. :13/11/09
Date of t. :
UNIT 7: THE WORLD OF WORK
SECTION B2,3,4 : THE WORKERS
I. AIM:
After this lesson, students can describe the work that their parents do everyday and continue to have a through grasp of the work of jobs such as: doctor, nurse, teacher 
Improving and developing speaking, reading, writing & listening skills.
Helping the students take care of the family's animals.
II. LANGUAGE CONTENTS:
1. Grammar: 
a. When there is less work, he goes to the city
2. Vocabulary: 
( v): feed ,rest
( n ): pig ,main crop ,buffalo shed ,chicken coop 
(a) : real
III. SKILLS & TEACHING AIDS:
 1. Skills: Listening, reading, speaking, writing
 2. Teaching aids: Text books, pictures, cassette 
 IV. METHODS:
 - Communicative method
 - Direct method
V. PROCESSES:
 1. Greetings and checking attendance:
 - 7A1	7A2
 2. Checking the previous lesson. 
Check new words on the board
Students answer these questions: 
 What is your parents' job?
	How many hours a week do your parents work?
 3. New lesson 	
Stages
Teacher's and students' activities
Content
Warm up
Presentation
COM. Check
Practice B2 
 B3
B4
B5
Summary
T asks sts to look at the picture and answer the questions
Sts look at the picture, listen and answer the questions 
T introduces the lesson: "In the last lesson, you learned about the jobs such as: housewife, doctor Today we will study about works of a farmer"
T explains new words and expression
Sts Listen and repeat new words after the teacher
Get individual students read new words on the board
T draws circles and writes new words in each circles
T asks sts to repeat the words chorally, then rub out word by word but leave the circles
Go on until the circles are empty. Get students to go to the board and write the words in the correct circles
T ask sts to read the text by themselves
Sts read the text carefully
T asks some students read the text before the class
T asks sts to answer the questions about the text
Sts answer the questions
T asks sts to look at the table and explain the task of the exercise
Sts look at the table and listen the explanation of the teacher
T asks sts to reread Tim's letter and the passage about Mr Tuan and fill in the table the information needed
T calls on some students to give the answer
Sts give answers and then recheck with the teacher
T asks sts to look at the table
Sts look at the table
T asks sts to listen to the tape twice then complete the table
Sts listen to the tape twice then complete the table
T asks sts to listen to the tape again and check their answers
Sts listen and check
T asks sts to listen to the poem
Sts listen to the poem
T asks sts to read the poem : The failure page 78
Sts read chorally / individually
T consolidates the work of farmer and mechanic following main ideas daily
Sts listen to the teacher
-Can you guess what his job is?
-What are the daily duties of a farmer?
New words:
feed ( v ): cho aên
pig ( n ): con heo
main crop ( n ): vuï muøa chính
rest ( v ): nghæ ngôi
buffalo shed ( n ): chuoàng traâu, chuoàng boø
chiken coop ( n ): chuoàng gaø
real ( a ): thaät söï
Grammar :
B2
* True / False predictions
1. Mr Tuan works about 84 hours a week
2. He grows vegetables and feeds animals
3. He has 2 days off a week
4. He has many vacations
- Read the text once
-Get Ss to read it in silence and check their predictions
* Answer
1. T 2. T 3. F 4. F
B3
* Answer
Hours per week
Days off
Vacation time
Mr Jones
40
two
A three-week summer vacation
Mr Tuan
84
One-four or five a year
No real vacation
 B4
Name
Job
Hours per week
Amount of
 vacation
Peter
doctor
70
4 weeks
Susan
nurse
50
3 weeks
Jane
shop assistant
35
1 week
Phong
factory worker
48
2 weeks
VI HOME WORK AND PREPARATION:
 - Learn new words and structures by heart.
 - Prepare A 1,2 U 8
VII. EXPERIENCES:
================================================================
Week: 15
Period:45
Date of pre. :13/11/09
Date of t. :
Unit 8: PLACES 
SECTION A: ASKING THE WAY (A1+A2)
I. AIM:
After this lesson, students can ask and answer the way, direction, the distance between two places 
Improving and developing speaking, reading & listening skills.
II. LANGUAGE CONTENTS:
1. Grammar: 	
 	 +Modal verb "Could".
 +Could you tell me the way to the supermarket, please?
 +Could you tell me how to get there?
 +Is there a souvenir shop near here? 
2. Vocabulary: 
	(v) : take on the left , go straight ahead , show, take on the right
( n ) : souvenir shop, way	
III. SKILLS & TEACHING AIDS:
 1. Skills: Listening, reading, speaking, writing
 2. Teaching aids: Text books, pictures, cassette 
 IV. METHODS:
 - Communicative method
 - Direct method
V. PROCESSES:
 1. Greetings and checking attendance:
 - 7A1	7A2
 2. Checking the previous lesson. 
Two students read the passage part 2 and write some new words
	Students to go to the board and write the irregular adjective or adverbs
 3. New lesson 	
Stages
Teacher's and students' activities
Content
Warm up
Presentation
Com. Check
Practice 
A1
 A2
Summary
T asks sts to answer some questions about the places
Sts answer the questions
T introduces the lesson: "Today, we'll learn about the places in HN. Now let's begin Unit 8"
T introduces the new words and expression
Sts listen and repeat the new words after the teacher
Get individual student read new words on the board
T asks sts to make some sentences, using the structures asking the way
Sts make some sentences, using the structures asking the way
T asks sts to give the names of the places
Sts give the names of the places
T makes any corrections
Sts listen to the teacher
T uses additional pictures to do the same as the above
Sts look at the pictures and answer the questions as above
T uses WH – questions and let them answer
Sts listen and answer the questions
T asks sts to listen to the tape twice
T asks sts to listen and repeat
Sts listen carefully and repeat chorally
T present the expression used to ask for the way and give location / direction
T asks sts to practice in pairs
Sts practice in pairs
T consolidates the structures asking the way
Sts observe the structure and draw a grammatical rule
-Have you ever been to HN?
-What do you think about the sightseeing there?
-What are they?
New words:
+ National bank of Vietnam (n).
 + Saint Paul hospital (n).
 + The Central Post Office (n).
 + Ha Noi Railway Station (n).
 + Souvenir (n)-> souvenir shop .
 + Go straight ahead (phr).
 + Take the first second street 
Grammar:
+ Is there a souvenir shop near here?
 -> Yes, there is one.
 + Could you tell me how to get there?
 + Could you show me the way to the supermarket, please?
Answer:
a. National bank of VN
b. Saint Paul Hospital
c. Hotel
d. The Central Post office
e. Hanoi Railway station
f. Dong Xuan Market
1.Who are they ?
2.Where are they ?
3.What does the tourist want ?
Is there  near here?
Could you tell me how to get there?
VI HOME WORK AND PREPARATION:
 - Learn new words and structures by heart.
- Prepare part A3,4,5
VII. EXPERIENCES:
..
-================================================================
Week: 16
Period:46
Date of pre. :22/11/09
Date of t. :
Unit 8: PLACES 
SECTION A: ASKING THE WAY (A3,4,5)
I. AIM:
After this lesson, students can ask and answer th ... ents a, an, some, any to sts
Sts: listen and remember
T: asks the sts to fill in the blanks with: a, an, some, any
Sts: do exercise
T: explains the function, passion of adjective in a sentence and gives example.
Sts: listen and remember
- T: asks the sts to fill in the blanks with suitable adjectives exercises 3.
Sts: do exercise
T: makes sts see the contrast of present simple and present progressive tenses.
Sts: listen and remember
T: asks the sts to read the exercise 5 and use the present simple and present progressive tenses to do it
Sts do exercise
T: you are going to read the exercises, complete them and copy in your notebooks
Sts: read the open sentences and complete them.
T: correct the mistakes (if any)
T: you are going to read the exercises, complete them and copy in your notebooks
Sts: read the open sentences and complete them.
T: correct the mistakes (if any)
T: you are going to read the exercises, complete them and copy in your notebooks
Sts: read the open sentences and complete them.
T: correct the mistakes (if any)
T: you are going to read the exercises, complete them and copy in your notebooks
Sts: read the open sentences and complete them.
T: correct the mistakes (if any)
T: reminds the sts of the structures learnt in the lesson.
Sts: read aloud the exercises ( both individual & pairs )
1. present simple tense
She/he/it +V (s/es)
We/they/you/I+ V
Does/Do +S +V?
Exercise 1:
a. like, like; do/like; don't like
b. does/like; likes; does/like; doesn't like.
2. Articles
a / an : simple countable noun.
Some: affirmative sentences.
any : negative and interrogative sentences
Exercise 2:
a. any, any, some, an.
b. any, some.
c. any some, a.
3. Adjectives:
Tính từ bổ nghĩa cho danh từ. Tính từ thường đứng trước danh từ và sau động từ to be.
Ex: She is a beautiful girl.
Exercise 3:
a. short b. thin c. light d. strong e. full f. cold g. thin h. long
4. Contract
structure of present simple 
S +V (s/es)
structure of present progressive 
S + BE + V.ing
Exercise 5:
a. is eating b. are drinking
c. is riding d. is going
e. is getting f. is traveling
5. Adverb of frequency:
a. I always/ usually/ often/ sometimes/ never..
b, c, d, e, f, g..are the same.
6. Future: going to:
a. They are going to play soccer.
b. They are going to play tennis.
c. They are going camping.
d. They are going swimming.
e. They are going to watch TV.
f. They are going to cook
7. Future plans:
a. I'm going to.
b. I'm going to.
c. I'm going to.
d. I'm going to.
8. What is the weather like?
a. It's warm.
b. It's hot
c. It's cool
d. It's cold
9. Adjectives: comparatives and superlatives
a. longer - the longest
b. the longest
c. the tallest - taller - the tallest
d. the biggest - bigger - the biggest - the biggest
10. Indefinite quantifiers: a few, a little, a lot/lots
- a lot of - a little - a few - a lot
- a lot - a lot
Present simple tense
Present progressive tense
Articles: a, an, some, any
Adjectives
Adverbs of frequency
Future: be going to
What is the weather like?
Future plan
Adjectives: comparatives and superlatives
Indefinite quantifiers: a few, a little, a lot/lots
VI. HOME WORK AND PREPARATION:
 + learn the new words and read the conversation well.
 + prepare the Test 
VII EXPERIENCES:
.
Week: 18
Period:53
Date of pre. :5/12/09
Date of t. :
Revision4
I. AIMS:
After this lesson, Students can review the words and structures learnt in the previous lesson.
Improve and develop speaking, listening, reading and writing skill.
Help the students understand and communicate with others.
II. LANGUAGE CONTENTS:
 1. Structures: 
Possessive pronouns
Indefinite articles :a/an
Question words
Numbers
2. Vocabulary: Review the vocabulary from unit 1 to 8
III. SKILLS & TEACHING AIDS:
 1. Skills: Listening, reading, speaking, writing
 2. Teaching aids: Text books, pictures, cassette 
 IV. METHODS:
 - Communicative method
V. PROCESSES:
 1. Greetings and checking attendance:
 - 7A1..
 - 7A2
 2. Checking the previous lesson. 
 Sts talk about their family members. 
 3. New lesson 
	Stages
Teacher and pupils' activities
Content
 Warm up
Part 1
Presentation:
Practice:
Part2
Presentation:
Practice:
Part 3
Presentation:
Practice:
Part 4
Presentation.
Practice:
Part 5
Presentation:
Practice:
Part 6
Presentation:
Practice
Part 7
Presentation:
Practice:
Part 8
Presentation.
Practice:
summary 
- Asks pupils about their parents' jobs. 
+ Answer the questions.
- Introduces the new lesson to pupils. Gives the situation of the exercise 1 and ask pupils to do it.
 - Asks pupils to read the exercise 1,2,3 and then correct these sentences.
- Helps pupils to know the form of the verb to be.
+ Do the exercises by speaking.
- Shows pupils to see the picture and ask them what someone in the picture to do.
+ Answer the questions.
- Shows pupils to know the request of the exercise 4.
- Asks pupils to complete the commands sentences.
+ Complete the command sentences. 
- Points in the picture and ask pupils how many something in somewhere.
+ Answer the questions.
- Pupils can make the questions and the answers.
+ Using the questions in the book and the picture to answer.
- Asks pupils how many question words do they learn. And complete the exercise 6
+ Do the exercise 6 with in pair.
 - Gives some numbers and ask pupils to count.( Ex.7)
+ Write the numbers in the book. 
- Asks pupils what they say when they meet their teacher in the morning.
+ By the same way ask pupils to do the exercise 8 by speaking.
- Show pupils the know the situation and help them complete the dialogue.( Exercise 9)
+Take the roles of the dialogue.
- Shows pupils how to play with picture quiz.
+ Remember the words which say the meaning of the picture on the line.
T: asks the sts to copy the exercises into their notebooks.
What is your mother's job?
+ She is a teacher.
- What is your father's job?
+ He is a doctor.
* TO BE: am/is/are
1/ - am .am..
- are
- is 
- are
2/- ..amis..
-  is.are
- are
3/a.- . are..
+ .am..
b. - ..is 
+..is.
c.- Is..?
+isn't
- Are .?
+ .aren't.
4/ 
a. Come in b. Sit down.
c. Open your book.
d. Close your book.
e. Stand up.
5/
a. How many desks are there?
 + There is one.
b. How many books are there?
+ There are three.
..
6/
a. What.? b. Where..?
+ is + .live.
c. Who? d. What .?
+ ..is.. + lives
7/
1 one, 5 five, 30 thirty
8/
- Hello
+Hi.
- How are you?
+ I'm fine, thank you. How are you?
- Fine, Thanks.
9/ that/ Is/ yes/ this/ is/ isn't.
10/
chair/book/eraser/ruler/door/clock/
board/window
VI. HOME WORK AND PREPARATION:
 + learn the new words and read the conversation well.
 + prepare the Test 
VII EXPERIENCES:
.
Week: 18
Period:54
Date of pre.:10/12/09
Date of t.:
The first term English test.
I. AIMS:
After learning the lesson, the students can revise all the grammar points learnt from unit 1 to 8 and reinforce the sts' skill of using tenses.
Improving and developing speaking, listening, reading and writing skill.
Ss do the test in serious and strict manner.
II. LANGUAGE CONTENTS:	
1. Vocabulary:
All vocabulary from unit 1 to 8
2. Structures:
Present simple tense
Present progressive tense
Adverbs of frequency
Future: be going to
What is the weather like?
Future plan
Adjectives: tall, short
Prepositions
Articles
Adjectives: comparatives and superlatives
Indefinite quantifiers: a few, a little, a lot/lots
III. SKILLS AND TEACHING AIDS:
1. Skills: speaking, writing, listening and reading skills.
2. Teaching aids: papers, stereo, tape 
IV. METHOD: 
-Communicative approach
-Direct method
V. TEACHING STEPS:
1. Greeting and checking attendance:
7A1:.
7A2:.
2. Giving out of the test:
CONTENT
I. Listen and choose whether the statements are true (T) or false (F): (1.5ms)
T
F
1. Hung is doing housework at home.
2. Minh often plays basketball in his free time.
3. Today is Monday. Lan is studying Math.
4. Yen's favorite drink is orange juice.
5. Nam's father never goes fishing because he is very busy.
II. Choose and underline the best word(s)	: ( 3ms ) 
1. They . aerobics now.
	A. are do	B. doing	C. are doing	D. are playing.
2. ... does Mai skip? – Twice a week.
	A. How long	B. When	C. How often	D. Who 
3. What does Lan do  her free time? 
	A. in	B. on 	C. at	D. for
4.  sports does Nam play ? – Volleyball.
	A. Which	B. What	C. When	D. How
5. He .. goes swimming in the winter. It's too cold.
	A. always	B. often	C. never	D. usually
6. What is the weather . in the summer? 
	A. like	B. do	C. season	D. likes
III. Reading comprehension: (2ms)
 Nam likes sports very much. He jogs in the park every morning. In the afternoon, he often plays soccer with his friends. They usually play it in the stadium near Nam's 
 house. They never play soccer on the street. On the weekend, he and his friends 
 sometimes go camping in the mountains. They usually take food and water.
 Sometimes they camp overnight.
Questions:
 a. Is there a park near Nam's house?
	.
 b. How often do they camp overnight when they go camping on the weekend?
	.
IV. Writing: (2ms ) Put the words in correct order: 
 a. hungry / want / I / noodles / am / bowl / a / I / of.
	..
 b. often / swimming / when / my brother / goes / hot / is / it. 
	..
V. Choose the different words: (1.5ms)
 	1. A. farm	B. warm	C. park	D. garden
	2. A. thick	B. this	C. math	D. thin 
	3. A. sea	B. tea	C. teacher	D. weather
KEY AND MARKS
I. Listen and choose whether the statements are true (T) or false (F): (1.5ms)
1.F 	0.3 
2.F 	0.3
T 	0.3
T 	0.3
F 	0.3
	Tapescirpt: 
	1. Hung is at home. He is doing his homework.
	2. Minh is a student. He often plays badminton in his
 free time but now he's playing basketball with his friends. 
	3. Lan is at school now. She's studying Math. She has 
 Math on Monday.
4. Yen likes orange juice very much. She's drinking 
 orange juice with her classmates in the canteen. 
5. Nam's father is very busy but he always goes fishing 
 on weekends. 
II. Choose and underline the best word(s): ( 3ms ) 
C.	 	0.5
C. 	0.5
A. 	0.5
A. 	0.5
C. 	0.5
A 	0.5
III. Reading comprehension: (2ms)
 a. Yes, there is.	1.0
 b. They sometimes camps overnight.	1.0
 IV. Writing: Put the words in correct order: (2m) 
 a. I am hungry. I want a bowl of noodles.	1.0
 b. My brother often goes swimming when it is hot. 	1.0
 V. Choose the different words: (1.5ms)
 1. B. 0.5 	 	 2. B. 0.5	 
	 3. D	 0.5 
EXPERIENCES: