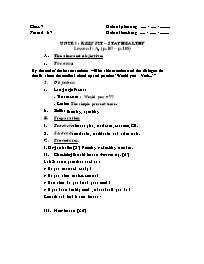 Unit 11 : Keep fit – Stay healthy
Lesson 1 : A1 (p.107 – p.108)
A. The aims and objectives.
1. The aims:
By the end of the lesson students will be able to understand the dialogue for details about the medical check up and practice "Would you + Verb.?"
2. Objectives:
a. Language focus:
 - The structure: Would you + V?
 - Review The simple present tense.
b. Skills: listening, speaking
B. Preparation.
1. Teacher's: lesson plan, wordcues, cassette, CD.
2. Students': textbooks, workbooks and other tools.
Bạn đang xem tài liệu "Giáo án môn Tiếng Anh Lớp 7 - Unit 11: Keep fit. Stay healthy - Lesson 1: A1", để tải tài liệu gốc về máy bạn click vào nút DOWNLOAD ở trên
Class:7 	 Date of planning : ..... / ..... / ..........
Period: 67	 Date of teaching : ..... / ...... / .........
Unit 11 : Keep fit – Stay healthy
Lesson 1 : A1 (p.107 – p.108)
The aims and objectives.
The aims: 
By the end of the lesson students will be able to understand the dialogue for details about the medical check up and practice "Would you + Verb...?"
Objectives:
Language focus:
 - The structure: Would you + V?
 - Review The simple present tense.
Skills: listening, speaking
Preparation.
Teacher's: lesson plan, wordcues, cassette, CD.
Students': textbooks, workbooks and other tools.
Procedures.
Organization (2') Greeting + checking member.
Checking the old lesson + warm up. (5')
Ask Ss some questions such as :
+ Do you eat much candy ?
+ Do you often eat ice- creams?
+ How often do you brush your teeth ?
+ If you have healthy teeth , what should you do ?
Remark and lead in new lesson .
New lesson (35')
Teacher's activities
Time
Students' activities
1. Vocabulary
- Temperature (n): nhiÖt ®é 
- Take one's temperature: ®o nhiÖt ®é
- Height (n): chiÒu cao
- High (adj): cao
- Measure (n): ®o
- Weigh (v): c©n
- Weigh (n): träng l­îng
- Scales (n): c¸i c©n
- Get on the scales: b­íc lªn c©n
- Waiting room: phßng chê
* Check vocabulary: rub out and remember.
2. Reading
 a. Answer Key: 
 a) 6, b) 8, c) 3, d) 2, e) 5, f) 1, g) 4, h) 7
b. Structure: polite request
- Would you open your mouth, please
- Would you stand here, please
- Would you get on the scales?
Would you + V + ., please
- Word Cue Drill: 
1. stand/ here
 2. get/ scales
 3. come/ at seven o'clock.
4. wait/ there.
5. Fill/ in the form.
6. Measure/ your height
8'
10'
7'
10'
- Listen and respose.
- Listen to T and repeat in chorally.
- Work in pairs.
- Listen and write down.
- Stand up and say individually.
Consolidation (2') Remind ss how to use polite request
Home work (1')
	 Learn vocabulary by heart
 List the verbs in the simple past tense
 Prepare the next period: A2-3