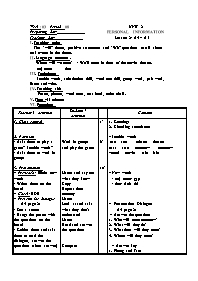 I. Teaching point
 The "will" future, positive statements and "Wh" questions to talk about real events in the future.
II. Language contents.
 Where will we meet? - We'll meet in front of the movie theater.
 (to) meet free
III. Techniques
 Jumble words, substitution drill, word cue drill, group work, pair work, listen and write.
IV. Teaching aids
 Poster, picture, word cues, text book, color chalk.
V. Time:45 minutes
Bạn đang xem tài liệu "Giáo án môn Tiếng Anh Lớp 7 - Unit 2: Personal information - Lesson 2: A4-A5", để tải tài liệu gốc về máy bạn click vào nút DOWNLOAD ở trên
Week: 03 Period: 08 UNIT 2
Preparing day:______________ PERSONAL INFORMATION
Teaching day:______________ Lesson 2: A4 – A5
I. Teaching point
 The "will" future, positive statements and "Wh" questions to talk about real events in the future.
II. Language contents.
 Where will we meet? - We'll meet in front of the movie theater.
 (to) meet free
III. Techniques
 Jumble words, substitution drill, word cue drill, group work, pair work, listen and write.
IV. Teaching aids
 Poster, picture, word cues, text book, color chalk.
V. Time:45 minutes
VI. Procedure
Teacher's activities
Students' activities
Contents
1. Class control
2. Revision
- Asks them to play a game" Jumble words"
- Asks them to work in groups
3. Presentation
* Pre-teach: Elicits new words
- Writes them on the board
* Check: ROR
* Presents the dialogue
 A4 page 21
- Sets a scene
- Hangs the poster with the questions on the board
- Guides them and asks them to read the dialogue, answer the questions (short answer)
- Asks them to compare with their partner
- Gives feedback
- From the dialogue elicits the model sentences (concept check)
4. Practice
- Gives them a question
And asks them to repeat
- Gives them some words and asks them to replace for the question
+ Uses the word cue drill
- Runs through the cue
- Gives an example
- Asks them to practice 4 cues( work in pairs)
5. Production
- Hangs the poster on the board
- Guides them the request of the exercise
- Asks them to listen and write the answer
- Asks them to compare 
- Gives feedback
* Homework
Work in groups and play the game
Listen and say out what they know
Copy
Repeat from memory
Listen
Look at and asks what they don't understand
Listen
Read and answer the questions
Compare
Correct
Listen and answer T
Copy 
Repeat 
Replace
Listen and repeat
Look at
Practice( open pairs , closed pairs)
Look at and answer some questions
Listen to T and write the answer
Correct
Copy
1'
6'
10'
15'
10'
3'
1. Greetings 
2. Checking attendance
* Jumble words
 ese = see rehatte = theater
trast = start oromtrow = tomorrow
vomei = movie tale = lale
* New words
 - (to) meet: gặp
 - free: rãnh rỗi
* Presentation Dialogue
 A4 page 21
 * Answer the questions
1. Who will meet tomorrow?
2. What will they do?
3. What time will they meet?
4. Where will they meet?
 * Answer key
1. Phong and Tam
2. see a movie
3. at 6:45
4. in front of the movie theater
* Model sentences
 Where will we meet?
 We will meet in front of the movie theater.
S + Will + V bare infinitive + O
 I'll = I will
 We'll = We will
à Thì tương lai đơn (The future simple tense)
* Substitution Drill
Where will we meet?àWhere will we meet?
- You	Where will you meet?
- What time à What time will you meet?
- Go	à What time will you go?
- How	 à How will you go?
- What/ see à What will you see?
* Word cue drill
 Where / meet? What time / meet?
 In the street at 7:00
 What / see? How / go?
 A film by bike
* Example exchange
 S1: Where will they meet?
 S2: We'll meet in the street.
* Listen and write the answer
a) Telephone number:____________
b) They will see:________________
c) They will meet at: ____________
d) They will go by:_____________
 * Answer key
a) 8 545 545 b) a movie
c) Lan's house d) bus
1. Learn new words and structure
2. Write the answer into their notebooks
3. Practice again
4. Prepare Unit 2: Lesson 3
* REMARK
---------------------------------------------------------------------------------------------------------------------------------------------------------------------------------------------------------------------------------------------------------------------------------------------------------------------------------------------------------------------------------------------------