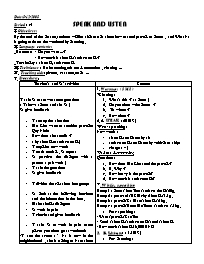 I. Objectives:
By the end of the lesson ,students will be able to talk about how to send parcels or letters , and What Na is going to do on the weekend by listening .
II. Language contents:
_Grammar: - Do you want ?
 - How much is airmail / surface mail ?
_Vocabulary : air mail , surfacemail
III. Techniques : Brainstorming,rub out & remember , chatting
IV. Teaching aids: picture, cassette, realia
Bạn đang xem tài liệu "Giáo án môn Tiếng Anh Lớp 8 - Unit 7: My neighborhood - Period 41: Speak and listen", để tải tài liệu gốc về máy bạn click vào nút DOWNLOAD ở trên
Date:5-12-2005
Period : 41 SPEAK AND LISTEN
I. Objectives:
By the end of the lesson ,students will be able to talk about how to send parcels or letters , and What Na is going to do on the weekend by listening .
II. Language contents:
_Grammar: - Do you want  ?
 - How much is airmail / surface mail ? 
_Vocabulary : air mail , surfacemail
III. Techniques : Brainstorming,rub out & remember , chatting 
IV. Teaching aids: picture, cassette, realia 
V. Procedures:
Teacher's and Ss' activities
Content
T asks Ss to answer some questions 
( T shows a letter and aks Ss )
Ss give feedback
T sets up the situation 
Mrs Kim wants to send the parcel to Quy Nhôn
How does she send it ?
( by airmail or surface mail )
T explains new words
T reads modals , Ss repeat
Ss practice the dialogue with a partner ( pair work )
T asks the questions
Ss give feedback
T divides the class into four groups
Ss look at the following brochure and the information in the box .
 - Make similar dialogues
Ss work in pairs
T checks and gives feedback
T asks Ss to work in pairs name places you often go at weekends
-T sets the scene : " Na is new in the neighborhood , she is talking to Nam about what she's going to do on the weekend " 
T asks Ss to listen to the tape and fill in the blanks in each advertisement 
Ss listen to the tape twice and give the answer Ss give feedback
T asks Ss to read the statements in the exercise 2 page 66
Ss guess which is true , which is false and which has no information
T asks Ss to share their ideas with their friends
Ss give feedback
Ss listen to the conversation again and tick in the correct boxes true / false or no information 
T asks Ss to work in groups to talk to their friends about what Na is going to do their weekend
T asks Ss to guess the words 
Ss give feedback
1. Warm up: ( 5 MS )
*Chatting :
What's this ? ( a letter )
Do you often write letters ?
 To whom ?
How often ?
2. A SPEAK ( 20 MS )
*Pre-speaking :
New words :
air mail : mail sent by air 
surface mail : mail sent by vehicle or ships 
charge ( v ) 
*Rub out &remember.
Questions :
How does Mrs Kim send the parcel ?
B. Why ?
How heavy is the parcel ?
How much is surfacemail ?
* . While- speaking
Group 1 : letter / kon Tum / surface /mail / 20g.
Group 2 : postcard / HCM city /airmail / 15 g .
Group 3 : parcel / Ca Mau / airmail / 2 kg .
Group 4 : parcel / Buon Me Thuot / surface / 5 kg .
Post- speaking :
- Want / parcel / CanTho
- Send / airmail / surface mail / send / airmail
- How much / airmail 13.000 UND
3. B. Listen : ( 15 MS )
Pre- listening :
 Places to go
* . While – listening
 Answer:
The new comer
Town Ground
English speaking contest
Culture House
2/66 True False No information
 a - ¨
 b - ¨
 c - ¨
 d - ¨
 e - ¨ 
 f - ¨
* . Post-listening :
Talk to their friends about what Na is going to do this weekend
4. Consolidation : ( 3 MS ) MARK
 1. A place where you can buy everything 
( supermaket )
 2. A place where you can buy vegetables and fruit 
 ( grocery store )
 3. A place where you can come to post a letter
 ( post office )
5. Homework: (2 MS )
_Learn by heart new words
_ Learn by heart the dialogue
- Prepare: Read ( new words, answer the questions )
 Remarks: